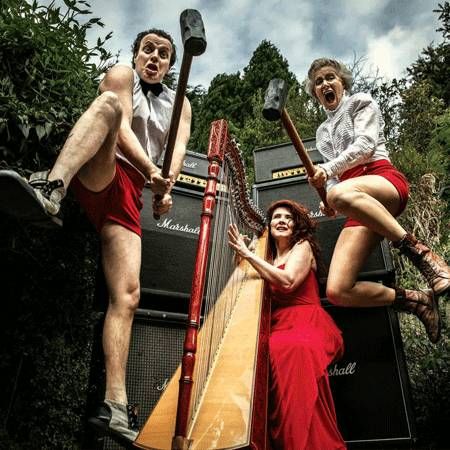 Comedy Circus
A circus of the absurd, it's funny and flexible with great comic timing
Full of slap-stick acrobatics, hazardous aerial tricks & flying hula-hoops
The company tour extensively with their indoor and outdoor shows
International award winning, ingenious acrobatic performances
Based in Belfast and available to play at events worldwide
Presenting an international award-winning, ingenious, acrobatic performance by this innovative Irish circus act. The group specialise in high skill circus, theatre and comedy, with trapeze, hula-hoops, juggling, acrobatics and silks.
A circus of the absurd, it's funny and flexible with great comic timing and even better gymnastic flair through slap-stick acrobatics, hazardous aerial tricks and flying hula-hoops, it's a tale about making the dream of circus and it's hard annoying reality.
Their performances also explore how relationships can fall apart, how they land on their feet, and how they survive. Peeling back the canvas, Comedy Circus will show you the human side of the circus. No fanfare or sequins, quite simply the extraordinary skill and passion of two acrobats on a lifelong adventure.
Their shows are an absurd jaunt into the soul of man, alive with the endless possibility of the human body, the joy of performing, and the humanity of success and failure. Ordinary people, doing extraordinary things!
The company tours extensively with their indoor and outdoor shows throughout Ireland, Europe and Australia.
" Ingenious acrobatic performance "

Perth Sunday Times 2012
" Funny and flexible with great comic timing…Very impressive. "

Adelaide Advertiser 2011
" It's threadbare Cirque de Soleil with heart and without oily slickness, and all the better for it "

ABC Perth
" This is a jubilant celebration that takes inspiration from the anarchy of punk, controlled skill of circus and tenderness of friendship. "

The Stage
" If you don't leave loving this show, you might not have a heart. Extraordinary "

Metro Herald ★★★★★
" Extraordinary skill and laugh out loud comedy, a refreshingly honest and clever piece of comedy-circus-theater "

TalkFringe Adelaide 2012 ★★★★★