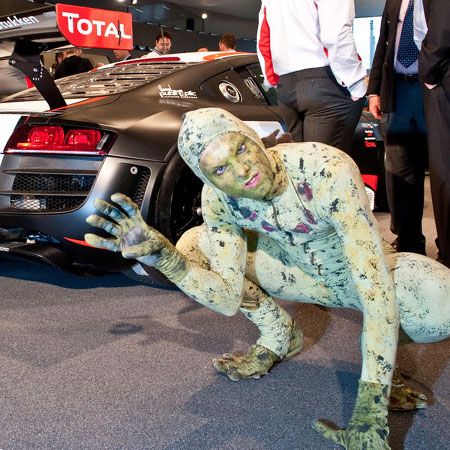 Comical Lizard Man
Sweet and funny reptile, especially friendly with children and animals
Ideal for themed parties, children's events and Halloween celebrations
Could provide guests with gifts and product samples and can also wear logos and banners
New costumes can be created with body painting (can become Gollum from Lord of the Rings)
Hire our Comical Lizard Man for performances in Belgium and overseas
Comical Lizard Man PHOTOS
Would you like to share a few laughs with your guests? Then our Comical Lizard Man is the themed party entertainer for your event. This sweet and funny reptile always makes friends easily and fast, and he especially gets on well with children and animals. Adults also find him cute and funny, which makes interaction with people from all ages easy. Ladies love to pet him, men usually feed him and children enjoy playing with him – and even some of them imitate him!
This interactive funny show is the ideal choice for themed parties, especially Children's and Halloween's ones. As to the latter, our Comical Lizard Man transforms on the scariest nigh of the year. He's not a cuddly toy children can play with anymore. He transforms into a dark, creepy creature that can be shadowy and scary: the perfect terrifying touch for your Halloween costume party!
This themed party entertainer is open to discuss customisation options for different types of events, so instead of a Comical Lizard Man he can turn into Gollum from Lord of the Rings or into a cute squirrel.
For the above purpose, costumes are not completely necessary and they can be replaced for body painting. So if this sounds like something you're interested in, you only need to ensure some body painting is available where your event is held.
Our funny reptile can also be asked to provide guests with gifts or product samples, and he could also be provided with any tool, toy or product that he can play with. He loves pretending he drives, he enjoys exploring any device and of course he has a lot of fun playing with children and their toys.
Loved by all, this lizard man performance is an interactive funny show you can't miss.
Book this act by contacting Scarlett Entertainment and find out more about our Comical Lizard Man!
BMW
Circus Ronaldo
Koksijde-Oostduinkerke Tourist Office
Pepsi
Tomorrowland
160year Katoennatie
Chassepierre street theatre festival
Cirque du Soleil
Nextel
Sportizon
Free Univeristy Brussel
Audi
" Working with you in the past 8 years has always been a pleasure. Always very enthusiastic in everything he does. I hope we can keep working together for many many years! "

Nathalie Phlippo, Koksijde-Oostduinkerke Tourist Office
" You are a very passionate entertainer. Working with you is always refreshing, renewing and original "

Geeta Walraven, Marketing Manager SMB at Nextel
" It was a pleasure working with him. The costume used was tailor-made especially for our event, which was great. I only have positive comments about it "

Johanna Steegen, Events coordinator at VUB (Free University Brussels)
" He is a professional performer, strong in respecting timings and an extremely good executer. He delivers a very professional service "

Nik Schotsmans, Head of Brand Activation at Sportizon
" He's one of my favourite entertainment suppliers. He provides a high-end entertainment service. It's always a pleasure to work with him. Do not have any doubts about his integrity and creativity "

Nicola Bové
" It was great to have you in our Circus' special Christmas edition! You are a very talented entertainer "

Danny Ronaldo, Circus Ronaldo
IDEA ARTICLES RELATED TO Comical Lizard Man