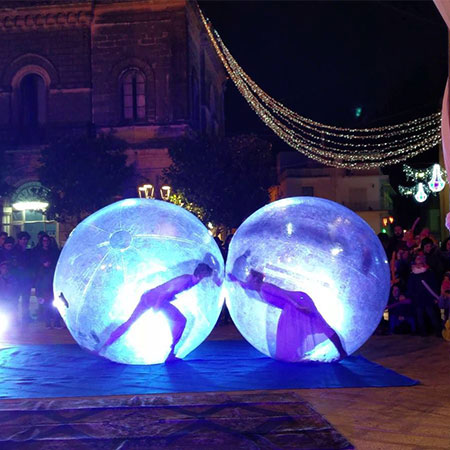 Dancing Bubble Spheres
Unique and enthralling entertainment concept adds that something special your event needs
Available as both walkabout and stage entertainment, our inflatable bubble performers can adapt to different performance spaces
Eye-catching acrobatic bubble act brings an unbeatable wow factor to any occasion
Dancing bubble acrobats are ideal for corporate functions and evenings, pool parties, weddings, receptions, etc.
These Dancing Bubble Spheres are available for bookings in Italy and worldwide
Dancing Bubble Spheres PHOTOS
Create a unique and visually stunning backdrop for your event by booking these Dancing Bubble Spheres, performers who bring an unbeatable WOW factor to any occasion.
Our inflatable bubble performers offer an eye-catching spectacle that will take any event to a whole new level. This original performance concept is a great addition to both outdoor and indoor events, especially for venues with swimming pools as our dancing bubble acrobats can also perform on water.
This acrobatic bubble act creates an elegant and stylish ambience at your event, ensuring any mundane space is transformed into a dreamlike world. Showcasing their talents inside giant globes, these inflatable bubble performers are guaranteed to turn heads wherever they go.
Available as both walkabout and stage entertainment, out dancing bubble acrobats are more than happy to customise their acrobatic bubble act and adapt it to different performance spaces. This enthralling entertainment concept is perfect for those looking for something unique and that inspires guests.
Offering a new way of watching an acrobatic act, our bubble sphere acrobats impress viewers with their glitz and glamour. Adding visual interest and unique talking points, our inflatable bubble performers will transform your event into a must attend affair!
Well suited for a variety of celebrations, this acrobatic bubble act is perfect for corporate events, receptions, cocktail lounges, pool parties, weddings, and many more! Helping you create memories for your event attendees, this sensational acrobatic bubble act will get people talking and sharing moments on social media throughout the whole event!
Scarlett Entertainment offers a wide range of bubble sphere acrobats for events in Italy and all over the world.
Book these Dancing Bubble Spheres for your upcoming event by contacting us. Our in-house team of Entertainment Specialists will be delighted to provide further details on these inflatable bubble performers and guide you through the booking process.