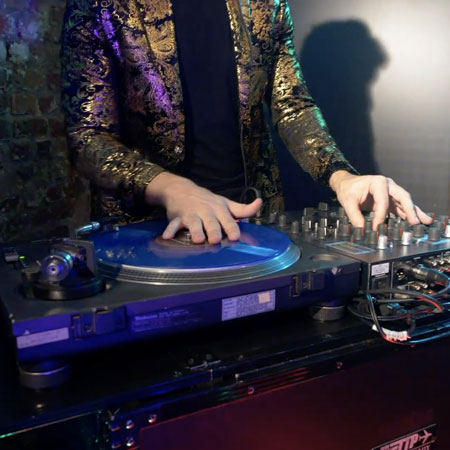 DJ and Live Sax
DJ and musicians with live dancers will bring the house down at the end of the night!
Highly experienced club musicians will bring an Ibiza vibe to your event
Our live DJ performs with percussionist and roaming saxophonists for interactive and glamorous entertainment
Guests won't be able to resist dancing all night with our live DJ and roaming musicians
Based in London, UK, our DJ and Live Sax is available for international bookings
Bringing you the freshest live DJ act, our DJ and Live Sax musicians are a must-have to ensure your party continues until morning!
Delivering a night your guests will never forget, these club musicians combine a live DJ with percussionist, roaming saxophonists and dancers for mesmerising live music entertainment. 
Perfect for the end of the night, ensure your party doesn't die down with our high-energy, dynamic live DJ and musicians. 
Guests won't be able to resist hitting the dance floor alongside our roaming saxophonists who provide sensational interactive entertainment on the dance floor. Perfect for offering the ultimate selfie opportunity, our DJ and musicians will happily pose with dancers and guests as they get up close and personal on the floor. 
Perfect for corporate entertainment, parties, weddings, club nights, venues and more, our talented and highly experienced artists will create an unbelievable live music experience for guests.
Top Tip:
Why not book our club musicians alongside their dedicated show band, Party Cover Band London? Made up of exceptional live musicians, our collective of exceptional performers and artists are ready to take your party by storm. 
Scarlett Entertainment offers a huge range of DJ and musician acts to bring the Ibiza vibe to your next event. Take a look at our array of roaming saxophonists and live DJs with everything from crystal-encrusted and LED instruments to make a splash at your event. 
To book this DJ and Live Sax act along with percussionist and dancers to bring the house down at your next special occasion, get in touch with our team of Entertainment Experts who will be happy to help.