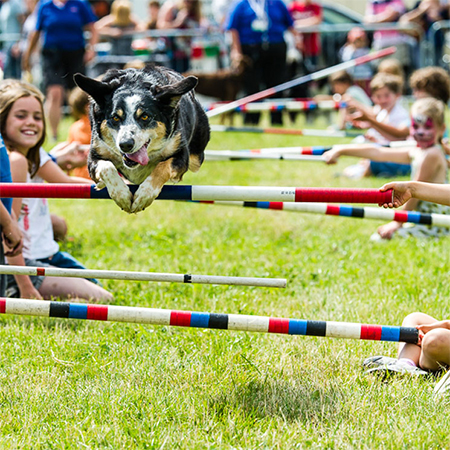 Dog Agility Competition
An incredible dog skills display that involves fire rings and other predetermined pattern of obstacles
A great family show that involves audience participation and that is especially enjoyed by children
Animals participating are police dogs that have received full training and can carry out difficult tricks
Ideal entertainment option for family fun days, outdoor family events and any other celebration in the open
This Dog Agility Competition is available for bookings throughout the UK
Dog Agility Competition PHOTOS
If you're looking for the right entertainment option for a family fun day or any other celebration in the open, then look no further. This Dog Agility Competition is the perfect choice for family fun days and outdoor celebrations that can be enjoyed with the family.
Led by a team of experts, trained dogs will follow a predetermined pattern of obstacles under the watchful eye of wide-eyed children and adults. The majority of animals competing are police dogs that have undertaken several obedience routines and fun agility races during their lifetime, which means they are fully trained and there is no risk to them. In fact, this dog skills display is always sponsored by a well-known veterinary practice.
The dog obstacle course our furry friends will face include fire rings, walking on ladders, jumping over obstacles and through hoops, etc. Partly interactive, this incredible dog challenge also involves games with humans, so both kids and their parents can join the fun!
This great family show has built a growing reputation over the years. This dog skills display aims to raise awareness on the importance of educating and training dogs and the responsibility that comes with adopting a pet.
The amazing dos and the team of experts that look after them and train them have performed at numerous prestigious events such as Discover Dogs, Channel 4's 'Pet Roadshows', Royal Three Counties Show, The London Pet Show, The Riyal Welsh Spring Festival, and other TV shows including Britain's Got Talent.
Scarlett Entertainment offers a variety of animal acts for events all over the world.
This Dog agility Competition is available for bookings throughout the UK. If you would like to book it, contact us today and make an enquiry. Our dedicated team of entertainment coordinators will be happy to provide further information on incredible dog challenge and assist you in the booking process.