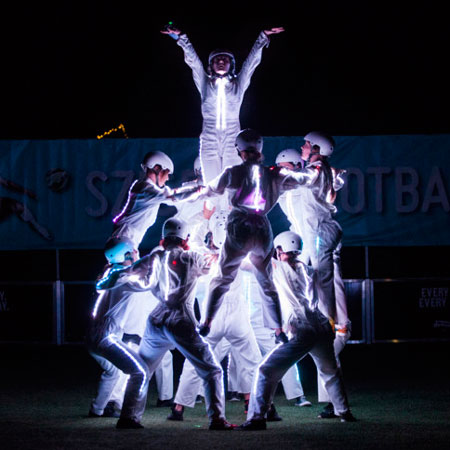 Drone Dance Show
One of a kind dance show will bring instant wow factor to your event
Uses the latest technology to deliver visual spectacle combining science with art
Professional dancers perform in futuristic drone show with LED costumes
Ideal for exhibitions, ceremonies, product launches, themed occasions, etc.
Unique act available to hire for events in Budapest and worldwide.
Guaranteed to amaze and inspire, our futuristic dance show is not to be missed. A fascinating, one of a kind spectacle, this unique act features the thrilling fusion of professional dancers with the very latest technology, resulting in the first multimedia drone show to ever be created. Completely original, this exceptional production is sure to delight audiences at your special occasion, making it an unforgettable experience for everyone.
An enchanting example of interaction between machines and humans, our incredible drone show offers a never before seen form of entertainment, in which state of the art technology is combined with sophisticated performance art to produce something truly special. Able to be tailored to your event to exactly meet your requirements, this unique act is certain to make it a memorable occasion for all the right reasons, ensuring your function is talked about for a long time to come.
Featuring professional dancers in eye-catching LED costumes, this innovative and highly effective blend of science with art will take your audience on a journey exploring human and animal connections and seeking to discover the future of the relationship between man and the latest technology. A mesmerising sight to behold, the dancers and drones move together in harmony in a beautiful sequence that flows effortlessly and organically, capturing the imaginations of all who witness it.
A dance show unlike anything you've seen before, this amazing concept is ideal for themed events, festivals, product launches, ceremonies, corporate events, exhibitions and more, and is available to book for events in Budapest and throughout Hungary.
Leading global specialists when it comes to all things entertainment, at Scarlett Entertainment we can supply you with fantastic acts for private and corporate events around the world, with options available to suit all occasions, themes, and budgets. For more information on the many entertainment choices we can offer, contact our dedicated team of co-ordinators today.