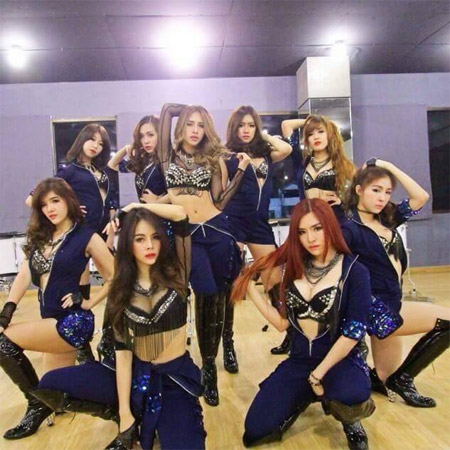 Drum Dancers
Sensational urban dance act will dazzle audiences with their electrifying routines and high energy show
Fantastic dance show performed on Thailand's Got Talent and amazed judges and audiences alike
Exuberant drumline dancers perform sizzling dance moves and pounding drums for a high impact dancing spectacle
Award winning dance act has performed at championship races, product launches and major events for Honda and Playboy
Amazing dancers available for events, shows and performances across Thailand
Book our sensational dance show for a stunning and exuberant performance full of style and energy. This fantastic dance act is sure to make a big impression on any audience with their lively performances, scintillating choreography and fabulous costumes to suit any occasion. Guests at any event will be hooked by our sensual and skilful drumline dancers and their electrifying dance routines. Our amazing dancers have wowed audiences all over Thailand with show stopping performances at major events as well as an unforgettable appearance on Thailand's Got Talent.  Book this dynamic and acclaimed urban dance act for your party, event, function or festival and give your guests an unforgettable dancing extravaganza!
This incredible dance show is sure to bring a raucous party atmosphere to any event. Our drumline dancers perform high octane routines mixing vibrant urban dance, hip hop and cheerleading styles with pounding drum beats and dazzling choreography to create the ultimate high impact dancing spectacle. Our dance act is so bursting with energy and colour that your guests will be exhausted just form watching it! Our fantastic dancers can perform in a huge range of styles and are perfect for events of all kinds.
Whether you need a stylish addition to your party or festival, an attention grabbing dance act to draw the crowds at your corporate product launch or a show stopping performance for a cabaret night, this urban dance act have you covered. Our award winning urban dance act made a huge impression on judges and audience alike with their appearance on Thailand's Got Talent and have gone on to win countless awards and perform at festivals, competitions and championship races all over the country.
Scarlett entertainment offers you an amazing range of dancers to suit any event or occasion.
Contact our expert team to arrange booking one of our brilliant acts.
Playboy
Thailand's Got Talent