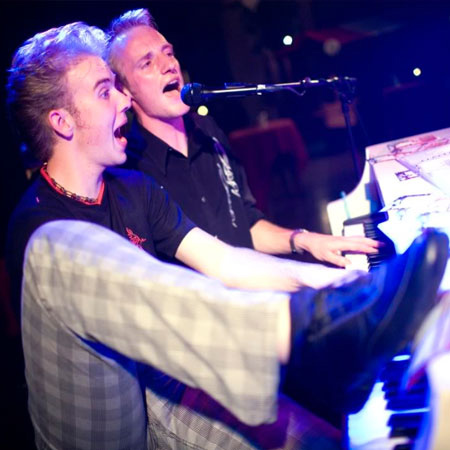 Dueling Pianos Show California
America's premier travelling Dueling Piano Show since 1993
Live, high-energy shows with outrageously talented duelling pianists
A combination of sing a-long, comedy, dancing and audience participation
Have performed for Yahoo!, Apple, LinkedIn, Facebook & NBC Universal
Based in California and available to perform at events worldwide
Dueling Pianos Show California PHOTOS
Set the stage with two Grand Pianos and two outrageously talented Dueling Pianists.
This high energy, all request Dueling Piano Show California is a combination of sing a-long, comedy, dedications, dancing and most important; audience participation. Request your favourite songs from the 50's, 60's, 70's, 80's, 90's to the present, American Pie, Piano Man, Great Balls of Fire, Brown Eyed Girl, to name just a few of the thousands of songs these dueling piano entertainers perform.
The entertainment value of the Dueling Piano Show California is the obvious choice when compared to bands or DJs where your guests can sit trying to talk over the loud music. Dueling pianos has it all, all request live entertainment, all night long.
The act have distinguished themselves as the unique experience in the private party/corporate event arena producing shows for renowned clients such as: Yahoo!, Apple, LinkedIn, FaceBook, NBC Universal, The San Jose Sharks, Cisco, Time Warner, Harrah's, The Children's Miracle Network… (To name a few). Their all request, audience participation shows promise to provide their discerning clients with an unforgettable night of entertainment.
They not only pride themselves on producing fun filled, headlining performances but also have spectacular presentation. The pianists are hand-selected performers with at least 7 to 20 years experience in the Dueling Pianos industry, performing thousands of successful engagements.
The Dueling Pianos are perfect for any corporate event, corporate function, private party, company party, fundraiser, wedding reception, banquet, birthday party, holiday party, Christmas party, New Years eve party, corporate team building events as well as an ongoing show at your favourite nightclub, bar or casino.
A Moment Like This
Achy Breaky Heart
Against All Odds
Ain't No Mountain High Enough
Afternoon delight
Alison
All In The Family
All My Exes
All Shook Up
All Summer Long
All The Small Things
Allentown
American Pie
American Woman
Amy
Annies Song
Another One Bites the Dust
As Good As I Once Was
At This Moment
Baby Face
Baby Got Back
Baby Grand
Back in Black
Back In The U.S.S.R.
Bad Bad Leroy Brown
Bad Day
Bad Moon Rising
Bad to The Bone
Ballroom Blitz
Bang on the Drum All Day
Barbara-Ann
Barbie Girl
Barnacle Bill
Bartenders Blues
Beer Barrel Polka
Bennie and the Jets
Best That You Can Do
Beverly Hillbillies
Big Shot
Billy Jean
Bitch Is Back
Blackbird
Blitzkrieg Bop (: Hey Ho Lets go)
Blister In The Sun
Blue Suede Shoes
Blueberry Hill
Bohemian Rhapsody
Boot Scoot Boogie
Border Song
Born in the USA
Born To Be Wild
Born to Run
Brady Bunch
Brandy Looking Glass
Breaking Up Is Hard To Do
Brown Eyed Girl
Build Me Up Buttercup
Burn Down The Mission
Bye Bye Love
California Dreamin
California Girls
Can You Feel The Love Tonight
Candle In The Wind
Cant Fight This Feeling
Cathys Clown
Cats In The Cradle
A Beautiful Morning
Centerfield
Chanukah Song
Changes In Latitudes Changes in Attitudes
Chicken Dance
China Grove
Close To You
Come Monday
Come on Eileen
Come Sail Away
Copacabana
Could It Be Magic
Cover of the Rolling Stone
Crazy
Crazy Train
Crocodile Rock
Dancing in the Street
Dancing on the Ceiling
Daniel
Dannys Song
Delta Lady
Desperado
Devil Went Down To Georgia
Devil With a Blue Dress
Dick and Jane Parody/Roast
Disco Duck
Do Wah Diddy
Doctor Doctor (Bad Case of Lovin You)
Doctor My Eyes
Dog Style Parody/Roast
Dont Fear The Reaper
Dont Let The Sun Go Down On Me
Dont Worry Be Happy
Dont Stop Believin
Drops of Jupiter
Downtown
Drift Away
Dust In The Wind
Eight Days a Week
Elvira
Every Little Thing She Does Is Magic
Every Rose Has Its Thorn
Evil Ways
Family Tradition
Feel Like Makin Love
Feelin Stronger Every Day
Feels Like the First Time
Fight for Your Right to Party
Five Oclock Somewhere
Flintstones
Fooling Yourself
Footloose
Free Bird
Free Ride
Friends Elton John
Friends Television
Friends In Low Places
Fun Fun Fun Beach Boys
Funky Cold Medina
Georgia On My Mind
Get Down Tonight
Get the Party Started
Get Ready for This
Gilligans Island
Girls Just Wanna Have
And Many More
Celebration
LinkedIn
Lexus
Purina
Montbleu
Apple
Kraft
New York Life
Facebook
And Many More...
Yahoo!