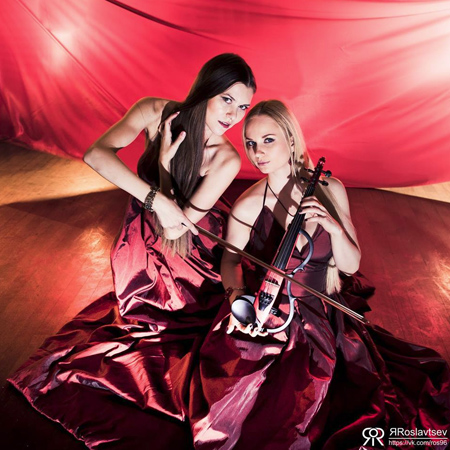 Electric Strings Duo Russia
Glamorous, modern & extremely talented Electric String Duo
Dynamic, energetic show includes fantastic costumes, choreography & music
Play on acoustic & electric violin - classical, jazz, folk, dance and pop
Have worked with The Philharmonic Orchestra & The Chamber Orchestra
Based in Russia & available to play at events worldwide
Electric Strings Duo Russia PHOTOS
This beautiful and talented violin duo are both graduates from the world's leading conservatoires, The Moscow Conservatory and the Gnesin Academy of Music. The violinists have received various diplomas and participated in multiple national and international competitions.
Their dynamic, energetic show can be tailored to your specific event, and includes gorgeous costumes and choreography along with great music.  The girls can play and arrange for a wide variety of music styles on both acoustic and electric instruments - classical, jazz, folk, dance and pop.
Formed in 2007, the Electric String Duo have worked with the Philharmonic Orchestra, opera studio at The Conservatory, with the Chamber Orchestra, with the Chamber Theatre, the International Quartet and also as teachers.