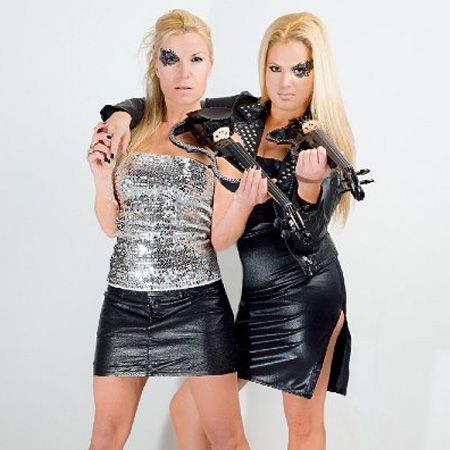 Electric Violin Duo: Space
One of the most indemand Electric Violin duos in Europe
Perform as a duo, but also available as a Quartet or with big band option
Performed in the US, China, Russia, Qatar and across Europe
Repertoire includes Country, Irish, Pop, Folk, Swing and much more
Based in Cologne, Germany and available to perform worldwide
Electric Violin Duo: Space PHOTOS
Beaming on to the stage, Both violinists play with unimaginable energy, which jumps over to the audience. The Electric Violin Duo performs various kinds of music from folk to country and presents another side of violin, making the sound of the instrument very attractive.
This violin duo were established in 1997 and have performed hundreds times on different kinds of stages from music festivals through to open air concerts to performances on the most famous ferries as a "guest entertainers". The girls have also performed at many exhibitions, galas, company festivities and other enterprises.
They mostly perform as a duo, but for special requests the band play as part of a trio, quartet, with a big band or with symphonic orchestra. So far the girls have supported artists such as: The Corrs, Lou Bega and Chris Rea during their concerts.
The Electric Violin Duo perform a huge repertoire of popular songs including the most famous American style "Swing". With such a variety in their repertoire the duo are able to prepare different entertainment shows depending on the clients needs and shows the most valuable feature of this Violin Duo: power and professionalism.
Escala
David Garrett
Michael Jackson-Smooth Crmininal
Kim Mazelle - Young hearts run free
Anastacia - I´m outta love
Black eyed peas - I got a feeling
Bellini - Samba de Janeiro
Gnarks Barkley - Crazy
Lliaro Alicante-Vacaciones en Chile
Adagio for Strings - Tiesto Remix
Ida Corr - Let Me Think About It (Club Mix)
Yves Larock - Rise up
Elmer Bernstein - The Magnificient Seven - Soundtrack
Enio Morricone - Chi Mai - Der Profi - Soundtrack
Michael Flatley - Lord of the Dance
Michael Flatley - Warriors
Michael Flatley - Gypsy
John Denver - Country Road
Jerry Lee Lewis – Jambalaya
Ray Charles - Hit the road, Jack
Bond
Michael Jackson-Medley
Abba - Dancing Queen
Duffy - Mercy
Shakira feat. Wycleff Jean - Hips don´t lie
Yolanda be cool – We no speak Americano
Edward Maya - Stereo Love
Eurythmics - Sweet Dreams
Sebastian Leger - Bambou
Braveheart
Guru Josh Project – Infinity
Disco Boys - For you
He´s a pirate - Pirates of the Caribbean - Soundtrack
Albinioni - Adagio in G - Minor
Michael Flatley - Victory inkl. Intro
Michael Flatley - Cry of the Celts
Michael Flatley - Siamsa
American Folk Song – Cutton-Eyed Joe
Glenn Miller - In the mood
Blues Bothers - Minnie the Moocher
The Millionaire Faire Munich
Fujitsu Siemens
BMW
VW - car launch
Daewoo - car launch
Cebit - Hannover
DHL - Deutsche Post
Helaba - Madrid
Gas Prom - Moscow
Nokia - Stockholm
125 years Kaufhof
Calvin Kline - New York
Expo 2010
Sopot Festival in Poland
Formula 1
Thuringen Landespresseball
Costa Cruise Lines
IBM
Porsche - car launch
Mercedes - car launch
Kia - car launch
Toyota - car launch
Michelin - 12 x European Tour 2008/2009
Deutsche Post Bank
Telekom - Bonn
Philipp Morris - Lausanne
Ruwido - Salzburg
Allianz AG
Nokia Night of the Proms
German Bundeskanzleramt
European Football Championship
Basketball Champions League
Silversea "Silver Whisper"
MCI