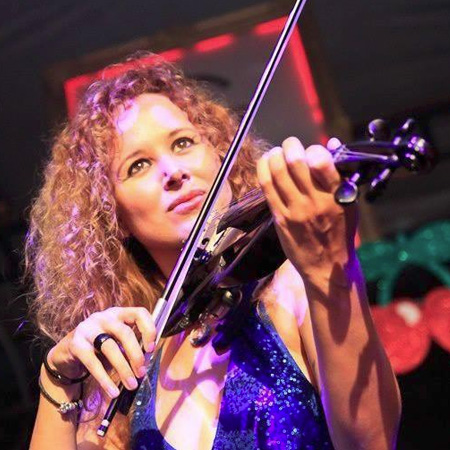 Electric Violinist Madrid
One of the most exciting and in demand electric violinist in Europe
Performed with top artists such as Robbie Williams and David Bisbal
Perfect for high profile parties, corporate events, night clubs...
Previous clients include Heineken, Privilege, Ron Barcelo, Cafe Armani
Based in Madrid and available to perform at events worldwide
Electric Violinist Madrid PHOTOS
This Madrid based Electric Violinist is a seasoned performer having travelled extensively in and around Europe for shows and performances. An experienced musician, she began her musical journey at the age of 7 when she started taking violin lessons in the Music Conservatory of Oviedo. After obtaining a degree, she pursued her passion and embarked on a musical career, being a regular violinist in symphony orchestras and chamber groups.
Touring and meeting artists and musicians challenged her to try and further her craft. She joined a group of promising young artists and embarked on a career as a concert violinist, performing with major artists such as Robbie Williams and David Brisbal.
After some time, she decided to move to Madrid and there shifted to electronic music, with the electric violin being her instrument of choice. This proved to be one of the best decisions she made as her career blossomed. With her talent and musical skill, she quickly became a regular performer at corporate events and nightclubs in Spain. Her long list of clients include Taboo, Fabrik, Greenback, Bangaloo, Privilege and Sala Heineken.
Electric Violinist Madrid is a total performer. With a violin, she can craft the most relaxing music to sooth the senses. With an electric violin, she makes you dance and jump and party non-stop. Her talent has taken her to perform in many other countries like Germany, France, Switzerland, Vienna, Brazil, and Italy. This classy talent is a favourite with product launches, corporate events, night clubs, exclusive private parties and 5 star hotels throughout Europe.
Greenback
Bangaloo
Klimt
Privilege
Rogue Havana
Mandala
kumaras
Shoko
Revival
Sala Heineken
Es Paradis
Garamond
Penelope
Taboo
Heaven
Oxi
Lio
KuDeTa
Mae West
Ushuaia
Habanna
Sotovento
Plató 68
Kapital
Moma
Space of Sound
The Ribiera
Fabrik