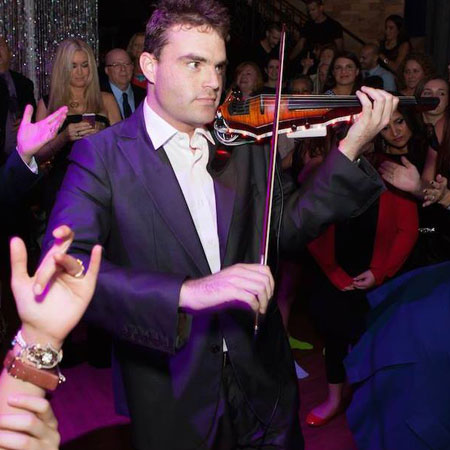 Electric Violinist Miami
Violinist who will dazzle you & your guests with showmanship & artistry
One-of-a-kind Electric Pop Violin Show with light up colourful LEDs
Also offers a purely classical & extremely technical violin program
Creates shows fit for any occasion, any audience & any scale!
Based in Miami & available to perform at events worldwide
South Florida's hottest and most exciting Violin Act is now available for your private event, whether it is a wedding, private party, corporate function, or just a family gathering. This Electric Violin Extraordinaire is guaranteed to bring your crowd to its feet and entertain your audience with a one of a kind violin show that nobody will forget.
Well versed in both classical and popular genres, Violinist Monty will dazzle you with the showmanship and artistry he brings to the music. If you are having a wedding ceremony, classical favourites such as Canon in D and Bach Air can be played to give your guests an elegant atmosphere. If you are having a cocktail or any other party where you are looking for hip and forward thinking entertainment, look no further.
Monty's Electric Pop Violin Show is a one-of-a-kind act that has been many years in the making. It features unique and innovative performances of current popular hits that everyone loves to listen to, arranged especially for the violin. His electric violin lights up with colourful LEDs, culminating in a performance that is suitable for both stage shows and smaller scale events.
Your guests' will be dancing and partying to the music! This show is a great fit for almost any festive occasion and is suitable for all ages. If you are looking for a staged performance for a seated audience at your event, Monty is an experienced solo performer, having performed for crowds as large as 2000 since the age of seven.
Monty can also improvise over a DJ's beats; however, the show is designed to work perfectly on its own without a DJ spinning. Other backup instrumentalists can be added to the show if requested.
If you are a more sophisticated aficionado of classical music, you will be pleased to know that a purely classical program can also be prepared, including the extremely technically demanding works of Paganini, Wieniawski, Sarasate, and Ysaye, played in the tradition of the old masters of the violin!
Fade Into Darkness
On The Floor
Let Me Love You
Don't You Worry Child
Sweet Nothing
Break Free
Call Me Maybe
Turn Me On
Feel This Moment
Firework
Timber
Flashing Lights
Tijuana Flats
Sony Open Tennis
V73
Spirit Airlines
Samsung
Newport Group
Altair Group