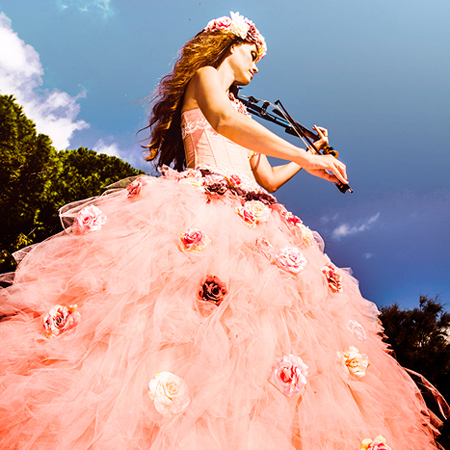 Electric Violinist: Stephanie
Fantastic Electric Violin act available for Corporate and Private events
Huge repertoire inc Jazz, Gypsy music, Country, Celtic, Party and Lounge
Can perform as a Solo or Duo with a Saxophonist or another Violinist
Stephanie is also a talented Singer, Composer and Painter
Based in Nice, France and available to perform Worldwide
Electric Violinist: Stephanie PHOTOS
This very talented French violinist is also a painter and sculptor.  Her artist flair shows in her performances, whether it be on stage or strolling between the tables. This show can be split over different sets (15-20 min per set) so you have the option of the first part to be lounge music, the second part could be jazzy-Sinatra theme, then oriental music or disco music with costume changes for different themes.
She has been a violinist since she was 7 years old. She studied whistle, piano, accordion and singing. Diplomate of the Toulon Music Academy in 1998, she performed with different orchestras which made her a versatile musician with a large repertoire: jazz, gypsy music, country, flamenco, irish music, celtic music, oriental, party music, soul, lounge.....
She performed in the movie "Jules et Jim" with a popular french actor: Charles Berling. She performed on the CD of Eddy Ray, Sirenia, Alias, Richart Lesage....With her electronic violin, she performed the first part of "Kool and the Gang" at Berlin, Germany and in the musical comedy "The Mermaid" around the world.
Stephanie performs as a soloist or duo with a saxophonist or you have the option of a trio with 2 electronic strings and a saxophonist.  Something to suit all your needs.
Top Tip:
If you want to elevate your event to new heights of sophistication our violinist can perform atop stilts with a stunning floral dress. Towering to a height of 2.35 meters it's the perfect meet and great entertainment for summer parties and weddings.
To find out more
contact
 our team of Entertainment Experts who will be more than happy to help with your enquiry.
Jazz (All of me autumn leaves beautiful love...)
French songs (la mer la vie en rose...)
Gipsy (Cocher les yeux noirs kalinka...)
Klezmer (Main Umet Tates...)
Lounge ( Amelie Poulain Libertango Adagio…)
Techno (Viva Cotton Eye Joe Samba...)
Disco (I will survive Born to be alive Hot Stuff...)
Oriental (Belly Dance 1001 nuits...)
Films music (Pulp fiction Pirates of Carribean…)
Sinatra (the lady is a tramp My way...)
Chateau de la Napoule
Casino d'Aix
Chateau du Font du Broc
Martinez Hotel (Cannes)
Monaco Sporting
palais Nikaïa
And many more...
Chateau Saint-Martin