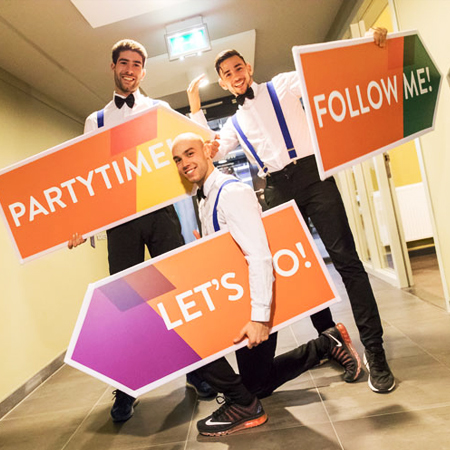 Event Sign Acrobats
A fantastic way to inform your public live with enthusiastic, spectacular interactive entertainment
Turn signage for events into a fun and brandable display with our human signposts
Combine tricking, parkour and martial arts with sign juggling!
Promotional acrobats are a high-energy yet practical option for trade shows, conferences, festivals, sports events and more
Based in the Netherlands, our Event Sign Acrobats are available for international bookings
Event Sign Acrobats PHOTOS
A fantastic way to inform your public live in an enthusiastic, interactive and spectacular manner, our Event Sign Acrobats combine stunts with information boards for a thrilling performance. 
Creating excitement and entertainment around the most boring elements of events, turn signage into a fun and brandable display. These human signposts will get your message across, entertain your guests while they wait, and ensure effective advertising.
Combining juggling, parkour and martial arts with mind-boggling stunts, our promotional acrobats are a high-energy yet practical option for trade shows, conferences, festivals, sports events and more.
These professional human signposts utilise the entire event setting of your location, playfully communicating your message to your guests with infectious sporty energy.
As well as providing this show-stopping element, the promotional acrobats can also be responsible for your brand awareness - beneficial to your event in multiple ways. This wacky signage for events is effective for easily directing your guests to different locations, spaces and activities at both public and corporate events, inside and outside. 
Top Tip:
Create your own bespoke signage for events with personal messages, information and instructions to help keep your guests informed and entertained. With a wealth of colours and designs to choose from, you can ensure that your human signposts perfectly match your brand and theme.
Scarlett Entertainment offers a range of interactive entertainment to help inject excitement and energy into signage for events across Europe, the US, Middle East, Asia and beyond. Discover more of our interactive entertainment to entertain guests at your next event. 
To book our Event Sign Acrobats and draw attention to your brand with promotional acrobats, get in touch with our team of Entertainment Experts who will be happy to advise on all of your interactive entertainment queries.