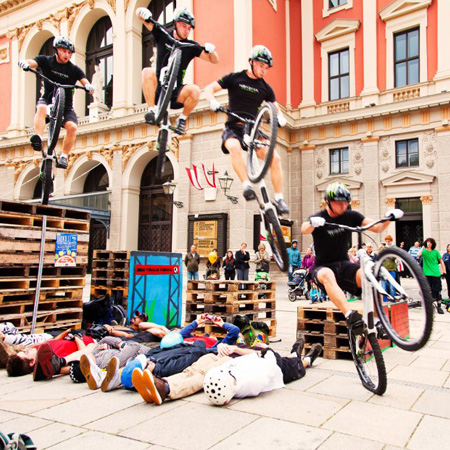 Extreme Cycling Show
The extreme cycling show includes amazing jumps defying the law of gravity
Bike Trial Rider László is among the best riders in the world
Can be adjusted according to the client with 1, 2, 3 or more riders
Previous clients include McDonald's, Moto GP and BMW
Based in Hungary and available to perform at events worldwide
Extreme Cycling Show VIDEOS
Extreme Cycling Show PHOTOS
Our extreme cycling show is guaranteed to wow audiences at your event as the world's best extreme sports athletes provide a breathtaking visual spectacle with their incredible stunts and stunning array of tricks.
Performing with passion and precision, these extreme bike trial riders' adrenaline-fuelled show is unlike anything you've seen before, with gravity-defying jumps, one of a kind stunts, and daredevil feats that will amaze and enthral guests of all ages. The performance can also feature audience participation, with our talented stunt riders performing impressive jumps over volunteers from the crowd.
A versatile act, this fantastic bike tricks and stunts show can be easily adjusted to suit your requirements, with tailor-made stage elements, a flexible number of riders, and various running times all available. Ideal for corporate functions, festivals, sporting events, themed occasions, product launches and more. It is superb unique corporate entertainment that would leave a lasting impression on the guests. 
Enquire today about bringing our brilliant extreme cycling show to your event and impressing your guests with fantastic flatland BMX riders, bike tricks and stunts
Iveco
Opel
RTL Klub ( TV channel )
Tourism Expo
BMW
MVM gala dinner
Porsche Panamera Launch Party
TV 2 ( TV channel )
Caterpillar