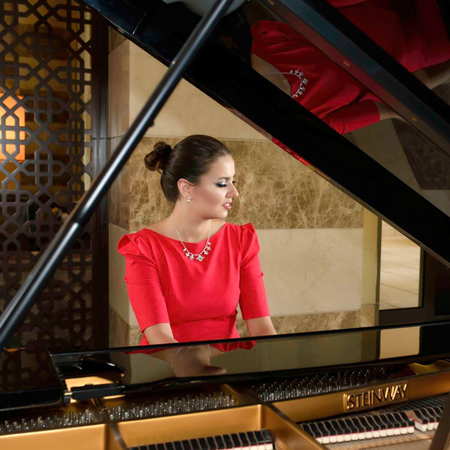 Female Singer Pianist Zagreb
Fantastic singer and multi-instrumentalist who also composes her own original music
Experienced residency musician has worked at five-star hotels in the Middle East
Provides high-quality background live music and has a diverse repertoire of songs
Accomplished singer-songwriter and selected as as one of the best young performers and songwriters
Based in Zagreb, Croatia and regularly performs all over the world
Female Singer Pianist Zagreb VIDEOS
Female Singer Pianist Zagreb PHOTOS
This Polish Croatian female musician is a multi-instrumentalist and singer with international experience. Book the Female Singer Pianist Zagreb to delight your guests with high-quality background live music and an enchanting selection of songs from throughout the decades. She is an ideal and experienced residency musician who has provided live music entertainment for a variety of high-profile resorts and events worldwide. 
Our Female Singer Pianist Zagreb has been a residency musician at five star hotels in the Middle East such as the Ritz-Carlton and JBR in Dubai as well as the St. Regis and Radisson Blu in Doha. She has also been a residency musician on a Silversea Cruises ship and performed at the Kimpton Everly Hotel in Hollywood, Los Angeles. As a solo musician and with other ensembles she has travelled the world to perform live musician the United States, UAE, Qatar, Sweden, Norway, The Netherlands, Kenya, Poland, Serbia and Croatia.
Back in Croatia, she is an accomplished singer-songwriter and at a Sonar Contest, the Female Singer Pianist Zagreb was selected as one of the best young performers and songwriters selected by renowned Croatian producers and the Croatian Composers Society.
The singer and piano player is a very elegant musician with a wide range of abilities and a professionally trained voice. She is able to fully tailor the live music to the client's taste and has a vast repertoire of international classics and much more
Top Tip:
This multi-talented female musician is also a fantastic flute player.
If you are seeking an experienced residency musician or a brilliant artist who will deliver laid-back and elegant live music for an event, contact us at Scarlett Entertainment to find out more about this Croatian singer and piano player.