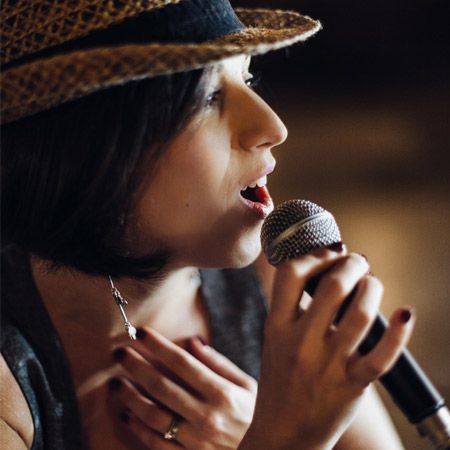 Female Vocalist Carly
Multi-talented vocalist trained in classical and jazz music
Repertoire inc. Jazz, Soul, Blues, Gospel and Pop
Also an experienced voice-over and session artist
Perfect for corporate events, private functions, hotels, concerts
Based in Cambridge, UK available to perform at events worldwide
Currently based in Cambridge, Carly is a multi-talented musician and performer with a wealth of performance experience.
Her incredible versatility can be credited to her natural talent as well as her formal training. A graduate from London Music and Performing Arts Colleges with a BA hons in Acting and Dance as well as a postgraduate in Classical and Jazz music, Carly has a wealth of specialist knowledge. Her vocal and acting training combine in her performances to create a captivating show.
Her repertoire includes Jazz, Soul, Blues, Gospel and Pop, and her clear smooth vocals have enchanted audiences at The Dorchester London and Kensington Roof Gardens as well as at various venues across Asia such as Clark Quay and Mohammed Sultan. In addition to her singing, Carly is also a professional and much sought after voice-over artist for animation works, children's storytelling and UK based radio.
A truly gifted vocalist and performer, Carly will delight audiences at corporate events, private functions, cubs, hotels and special occasions as well as being an obvious choice for events requiring voice-overs.
To find out more contact our team of Entertainment Specialists.
" On my wedding day Carly provided a repertoire that exceeded my expectations, making every effort to tailor her music to my personal favourites. I would love to have the occasion to ask Carly to perform again – maybe I'll get married again just for that opportunity! "

Miss Lai Sze Au, Private Client
" Carly has a unique quality to her voice and she is able to express a song to its maximum range whilst at the same time putting in her special flavour to the tune. Her vocal prowess has impressed many audiences, whether for a formal function or event, or for a more casual music experience. "

David Ng, Singapore
" Carly was a wonderful addition to our event, making it a warm friendly occasion that everyone enjoyed. Her singing was beautiful and set the mood for a very nice evening that was commented on by many of the guests. "

Alistair Higgins, London
" Carly has a wonderful voice and is versatile in her music style. She always performs with great passion and enthusiasm. "

John Chee, Musician and Manager - Singapore
" I had the pleasure of having Carly sing at my function and she was incredible. A fantastic singer, very professional and a lovely person. Having Carly sing really made the day. Carly has an amazing voice and she was accompanied by an equally superb pianist. This really set the scene and created the happy and relaxed atmosphere we were looking for. "

Kirsten Rae, Australia/Singapore.