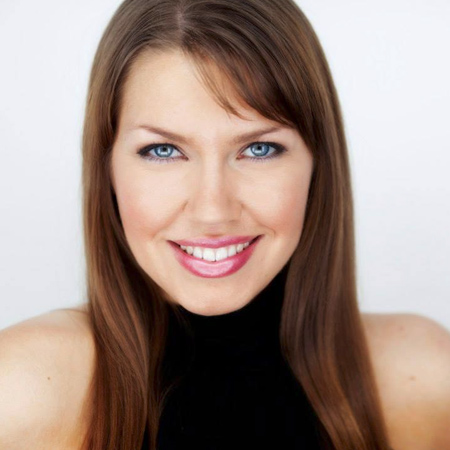 Female Vocalist Kendel
Accomplished in pop/rock, musical theatre, jazz & classical singing
Commands a stage and always delivers an exciting and risque performance
Performed as a lead singer with Carnival Cruise Lines
Can perform as part of a duo (keyboardist) or trio (keyboardist & drummer)
Based in Chicago & available to perform at events worldwide
Female Vocalist Kendel VIDEOS
Female Vocalist Kendel PHOTOS
Kendel has been studying voice for the past 10 years and is trained in all forms of singing and performance with a focus on Classical and Jazz. Hailing from Las Vegas she was a featured soloist at The Venetian Hotel and later was a headliner production singer for Carnival Cruise Lines. Currently she lives in Chicago and has starred in numerous musical theatre productions as well as fronting two Chicago bands.  
With her love of cabaret and avante-garde she is able to bring a diverse mix of musical influences that culminates in not only an original sound but a truly unique stage show. Having spent many years studying jazz dance, acting, and vocal performance she is able to command a stage and always delivers an exciting and risque performance.
Female vocalist Kendall will not only bring a level of top professionalism to your event; but with her experience and stage presence she is sure to make your night a memorable one.
Applause - Lady Gaga
All I Wanna Do - Sheryl Crow
Back To Black - Amy Whinehouse
Bad Things - Jace Everett
Bad Romance - Lady Gaga
Before He Cheats - Carrie Underwood
Beleive - Cher
Black Horse & Cherry Tree - KT Turnstall
Breathe Again - Toni Braxton
Creep - Radiohead
Cruel To Be Kind - Letters To Cleo
Don't Know Why - Norah Jones
Everybody Talks - Neon Trees
Firework - Katy Perry
Here For The Party - Gretchen Wilson
I Kissed A Girl - Katy Perry
I Love It - Icona Pop
Just Dance - Lady Gaga
Just Give Me A Reason - Pink
Like A Prayer - Madonna
Paparazzi - Lady Gaga
Raise Your Glass - Pink
Roar - Katy Perry
Rolling In The Deep - Adelle
U + Ur Hand - Pink
Still Into You - Paramore
Trouble - Taylor Swift
You Know I'm No Good - Amy Whinehouse
Standards
At Last - Etta James
Begin The Beguine - Cole Porter
Bewitched Bothered and Bewildered - Rodgers & Hart
Blame It On My Youth - Sinatra
Can't Help Lovin' Dat Man - Jerome Kern
Cheek To Cheek - Irving Berlin
Come Rain Come Shine - Harold Arlen
Diamonds Are A Girls Best Friend - Jules Styne
Embraceable You - George Gershwin
Falling In Love With Love - Rogers & Hart
Fever - Ella Fitzgerald
Fly Me To The Moon - Dean Martin
Honey Suckle Rose - Fats Waller
How Insensitive - Sinatra
How Long Has This Been Goin On - Gershwin
I'll Be Seeing You - Sammy Fain
It Don't Mean A Thing - Duke Ellington
In My Fashion - Cole Porter
I've Got The World On A String - Arlen
I Want To Be Bad - Good News
Lady Is A Tramp - Rodgers & Hart
Let's Do It - Porter
Losing My Mind - Sondheim
Love For Sale - Porter
My Funny Valentine - Rodgers & Hart
Naughty Baby - Gershwin
Someone To Watch Over Me - Gershwin
Modern Top 40
Ain't No Sunshine - Bill Withers
Baby Love - Diana Ross
Be My Baby - The Ronettes
Birthday - The Beatles
Build Me Up Buttercup - The Foundations
Call Me - Blondie
Come Together - The Beatles
Dancing In The Street - Matha & The Vandellas
Getting Better - The Beatles
Gigantic - The Pixies
Give Me One Reason - Tracy Chapman
Go Your Own Way - Fleetwood Mac
Heartbreaker - Pat Benatar
Heatwave - Martha & The Vandellas
Here Comes My Baby - Cat Stevens
How Sweet It Is - James Taylor
I Will - The Beatles
It's Still Rock N' Roll To Me - Billy Joel
I Will Survive - Gloria Gaynor
Killing Me Softly - Roberta Flack
Landslide - Stevie Nicks
Piece Of My Heart - Janis Joplin
Smooth Operator - Sade
Son Of A Preacher Man - Aretha Franklin
Sweet Caroline - Neil Diamond
Sweet Love - Anita Baker
Walking On Sunshine - Katerina & The Waves
Will You Still Love Me Tomorrow - The Shirelles
Classical/Musical Theatre
Al Di La
Autumn
Dividing Day
The Dreame
How Could I Ever Know
I Could Have Danced All Night
If I Loved You
I Have Dreamed
In My Life
Is It Really Me?
Monica's Waltz
Moonfall
Now Sleeps The Crimson Petal
O Sole Mio
Patterns
Ribbons Down My Back
Se Tu M'ami
She Walks In Beauty
Si Mi Chiamano Mimi
So In Love
Somebody Somewhere
Unusual Way
Weep You No More Sad Fountain
Why Did I Choose You?
Wishing You Were Somehow Here Again
With Every Breath I Take
Pop/R&B