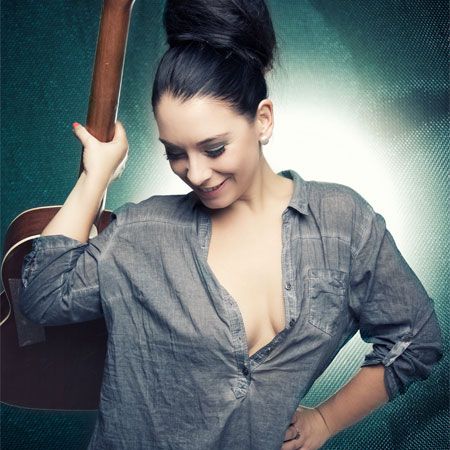 Female Vocalist Switzerland
Female Vocalist Switzerland boasts a captivating stage presence and stunning vocal arrangement that mesmerises audiences
Eclectic repertoire covers the hottest hits from the last five decades
Has performed with the likes of Bobby Kimball, Anastacia and Peter Kraus
Previous clients inc. Marriott Hotels, German Bank, Siemens and BMW
Based in Switzerland and available to perform at events worldwide
Female Vocalist Switzerland VIDEOS
Female Vocalist Switzerland PHOTOS
Our incredibly talented vocalist and guitarist hailing from Switzerland. She has been singing, playing guitar and performing from an early age. Our Female Vocalist Switzerland boasts an exceptional live event music performance that is overflowing with personality, talent and charisma.
Over the years our Female Vocalist Switzerland has developed a commanding stage presence and powerful voice and has captivated audiences numbering less than a hundred to tens of thousands. Her eclectic repertoire is ever expanding and features the hottest hits from the last five decades including artists such as David Guetta, Pink, Adele, Guns 'n' Roses, Bill Winters and Michael Jackson. She has something for everyone and can create bespoke set lists to suit the tone of your event and your own musical tastes.
Having performed at a huge range of event across Germany for companies such as Marriott Hotels, German Bank, Siemens, BMW and Ernst & Young you can rest assured that he beautiful vocal performances will make your event a success.
Female Vocalist Switzerland is perfect for a wide array of events from corporate events to private parties, themed occasions, gala dinners, cocktail hours and everything in between. Offering fully tailored set lists that are designed specifically for you this female vocalist is the ultimate event entertainment for all occasions.
To book our brilliant Female Vocalist Switzerland or for more information contact our helpful team of Entertainment Specialists today.
A moment like this – Kelly Clarkson
Ai si eu te pego - Michael Telo
Ain't nobody – Chaka Khan
Angels – Robbie Williams
Amazing grace – John Newton
Ave Maria – Sarah Connor
Bad girls – Jamiroquai
Be real – Joy Denalane
Besame mucho – Carlos Jobin
Bitch – Meredith Brooks
Black velvet – Alannah Myles
Brazen – Skunk Anansi
Can´t fight this feeling - Mothers Finest
Can't wait until tonight – Max Mutzke
Car wash – Rose Royce
Closer – Neyo
Country Roads – John Denver
Crazy – Gnales Barkley
Dancing Queen – ABBA
Denkmal – Wir sind Helden
Don't know why – Norah Jones
Don't stop the music – Rihanna
Er gehört zu mir – Marianne Rosenberg
Everybody needs somebody – Blues Brothers
Fame – Fame
Firework – Kate Perry
Georgia on my mind – Ray Charles
Girl from Ipanema – Antonio Carlos Jobim
Give it to me right – Melanie Fiona
Great Gig in the sky – Pink Floyd
Hallelujah – Jeff Buckley
Halt mich – Grönemeyer
Hedonism - Skunk Anansi
Hold the line – Toto
Hot fudge – Robbie Williams
Hot and cold – Kate Perry
I can see clearly now – Holly Cole
I follow rivers – Lykke Li
I love rock'n roll – Joan Jett
I will survive – Gloria Gaynor
I'm outta love – Anastacia
I've had the time of my life – Dirty Dancing
If I aint got you – Alicia Keys
Irgendwie irgendwo irgendwann - Nena
It´s raining men – Weather girls
I will always love you – Whitney Houston
Jedi rocks – Eva Orbus
Kids – Robby W. & Kylie M.
La Bamba – Ritchie Valens
Lady hear me tonight Modjo
Let it rain – Amanda Marshall
Let's twist again – Chubby Checker
Liebe ist – Nena
Light up my life – Lian Rimes
Like the way I do – Melissa Etheridge
Locked out of heaven – Bruno Mars
Love is a battlefield – Pat Benatar
Mamma Mia – Abba
Mercy – Duffy
Moves like Jagger – Maroon 5
My immortal – Evanesence
On and on – Nikka Costa
Oughta know – Alanis Morrisette
Perfect – Fairground Attraction
Pigs - Pink Floyd
Power of love – Huey Lewis
Proud mary – Tina Turner
Rehab – Amy Winehouse
Relight my fire – Westlife
Sag es laut – Xavier Naidoo
Shook me all night long – ACDC
Sing it back – Moloko
Someone like you – Adele
So what – Pink
Still the one – Shania Twain
Summertime – Ella Fitzgerald
Superstitious – Stevie Wonder
Sweet dreams – Eurythmics
The rose – Bette Midler
Titanium - David Guetta feat. Sia
Treasure – Bruno Mars
Umbrella – Rihanna
Use somebdoy – Kings of Leon
Walking on sunshine – Katherina and the Waves
We are family – Sister Sledge
What a feeling – Irene Cara
When love takes over – Kelly Rowland
YA – DLG
Yo no se manana – Luis Enrique
You're still the one – Shania Twain
Zombie - Cranberries
A night like this – Carol Emerald
Ain't no aunshine – Bill Withers
All along the watchtower - Bandits
Another sad Song – Bandits
Amsterdam - Cora
Baby love – Mothers Finest
Bad moon rising – CCR
Beat it – Michael Jackson
Big in Japan – Guano Apes
Black horse and a cherry tree – KT Install
Bohemian like you – Dandy Warhols
Cabaret - Cabaret
Can´t take my eyes off you - Frankie Valli
Can you feel the love tonight – Elton John
Celebration – Kool and the Gang
Conga – Gloria Estefan
Cowboy als Mann - Gitte
Cuando Cuando – Connie Francis
Das Beste – Silbermond
Diamonds – Rihanna
Don't speak – No doubt
Easy – Lionel Richie
Euphoria – Loreen
Faith – George Michael
Fields of gold – Eva Cassidy/Sting
Fly me to the moon – Frank Sinatra
Get here – Oleta Adams
Girl is on fire – Alicia Keys
Gotta right to be wrong – Joss Stone
Half a minute – Matt Bianco
Hallo Klaus – Nickerbocker & Biene
Heavy cross – Gossip
Highway to hell – ACDC
Hopelessly devoted – Grease
Hot stuff – Donna Summer
House of the rising sun – Bob Dylan
I feel good – James Brown
I kissed a girl – Kate Perry
I will follow him – Sister Act
I´m so excited – Pointer Sisters
In the arms of an angel – Sarah McLaughlin
If I were a boy/si yo fuera un chico – Beyonce
If you don't know me by now – Simply red
Ironic – Alanis Morissette
I want you to want me – Cheep trick
I´ve got the music in me – Kiki Dee
Just dance – Lady Gaga
Killing me softly – Fugees
Lady Marmalade – Pink, Aguilera...
Le freak – chic
Let´s have a party – Wanda Jackson
Lets get loud – J.Lo
Light my fire – The doors
Like a virgin – Madonna
Long train running – Doobie Brothers
Love – Nat King Cole
Mack the knife – Brecht (Deutsch)
Me and Bobby Mc Gee – Janis Joplin
Megalomaniac – Incubus
Moving on up - M People
Oh happy day – Sister act
Only girl – Rihanna
Oye como va – Carlos Santana
Perfect world – Gossip
Pokerface – Lady Gaga
Price Tag – Jessie J.
Raise your glass – Pink
Release me – Agnes
Rolling in the deep – Adele
Schöner fremder Mann – Connie Francis
Simply the best – Tina Turner
Smooth operator – Sade
Son of a preacher man – Janis Joplin
Stand by me (Bachata) – Prince Royce
Stop – Sam Brown
Summerwine – Nancy Sinatra
Sweet child of mine – Guns'n roses
Thank you for the music – Abba
Tik Tok – Kesha
TNT – ACDC
U and your hand – Pink
Upside down – Diana Ross
Valerie – Amy Whinehouse
Waterloo – Abba
We found love – Rihanna
What's up – 4 non blonds
Whenever, Wherever – Shakira
Willkommen – Cabaret
You might need somebody – Randy Crawford
You've got a friend – Carol King
Lufthansa
Sparkasse
Capco Capital Markets Company
Siemens, Porsche Autohaus
Price Water House Coopers
Nafems
Marriott Hotel Frankfurt
German Bank
Kempinski Frankfurt
BMW
Ernst and Young