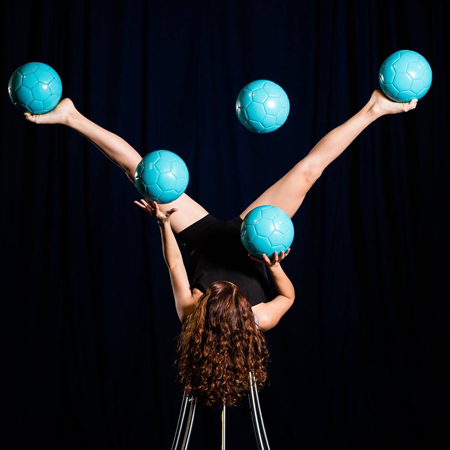 Foot Juggler UK
Unique upside down circus performer creates visually impressive show using her hands, feet and legs!
Years of experience touring Europe with internationally renowned circus acts and live event entertainment
She has performed globally including, for audiences at Mexico's most prestigious theatres including 'Teatro de la Ciudad'
Skilled in additional circus acts including Chinese pole and unicycle, perfect for stage and roaming performances
Based in Norwich UK, our juggling show is available for bookings worldwide
In search of unique and eye-catching live event entertainment for your next event? Look no further than our impressive Foot Juggler Mexico whose curious routine is performed upside down! 
A former gymnast, our juggling circus performer executes her act in a beautifully harmonic fashion that will leave audiences mesmerised. Combining her inspiring juggling talent with elegant leg movements, our Foot Juggler UK has developed her own distinct and graceful style of juggling by foot. Moves involve balancing, catching, and tricks with her hands, both legs and feet, which create visually impressive shapes with up to five balls continually held in mid air.
With the skill of circus performers double her age, our Foot Juggler UK has trained in various circus acts and disciplines since she was 11, studying at the National Arts Centre and Circus Mind, Mexico, among others.  
Having quickly developed striking skill and a distinguishing personal style, our Foot Juggler has performed for audiences since childhood. Circus performances include shows with circus company Transito Cinco, juggling show 'Colours', and artistic residencies in England, Portugal and Spain. 
Perfect for corporate entertainment, sporting events, product launches, themed occasions, exhibitions, and many, many more, our Foot Juggler UK can happily work with you to develop a stage or roaming performance to suit the needs of your event.
A truly graceful and elegant juggling act, this is a circus juggling show experience guests are unlikely to forget!
Top Tip:
Why not ask our Foot Juggler UK to show off her additional skills in Chinese Pole and Unicycle for double the impact? Perfect for both stage and roaming circus acts. Used to working solo or alongside other performers, she is a fantastic option alone or in combination with additional live event entertainment. 
Take a look at some more impressive circus performers! Browse our diverse roster of professional circus acts.
To book this special performer for your event contact our team of Entertainment Experts.
Krystallpalast Variete Leipzig
Hippodrome Circus Great Yarmouth
Gandini Juggling
Out There Festival
Circuba International Circus Festival
International Jugglers Association
Greenwich+Docklands International Festival
Florentin Circus
Beirut Winter Wonderland
Eskil Balance
Mexican Embassy in the United Kingdom