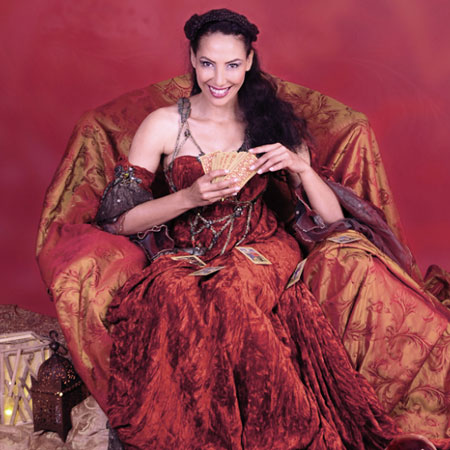 Fortune Teller Cara
Will add an atmosphere of excitement & mystery to your event
Offers fortune telling, tarot & palm readings
Can work to a number of themes: India, 1001 Nights, Africa, Halloween…
Previous clients include: BMW, Porsche, L'Oreal & Mercedes-Benz
Based in Germany & available to perform at events worldwide
Fortune Teller Cara PHOTOS
Ever wondered what your future holds and what happened to you in a previous life? Cara is a talented and highly renowned fortune teller and can give you the answers that you are looking for.
Using her abilities, Cara can look into your future and give you greater clarity on what you stand to gain or loose in terms of personal development, friends, family, health, love and finances. She can also help you to change your perspective on certain events, helping you on your journey through life. She can establish contacts to images and experiences of your past, present and future and look into the future to see which course your life will take and what opportunities will be offered to you. Her readings are always motivational and inspiring, and guests will be amazed at her insight.
Cara can use a range of mediums including tarot cards and palm reading. She can also offer a range of themed costumes including, India, 1001 Nights, Africa, Halloween, Medieval, Renaissance, Spain and Christmas. Her readings take place in a range of decorated tents, from 2 to 5 metres in diameter, and she also has a number of heated tents for outdoor use.
Having given entertaining motivational divinations at a number of events for high-profile corporate clients such as Mercedes-Benz, Siemens, Rewe, Porsche, BMW, VW, Sony and L'Oreal, Cara is highly experienced and professional. She will create an atmosphere of excitement and mystery at any event and entertain even the most sceptical of guests.
Rewe
BMW
SWF
Pro7
Telekom
Sony
Vodafone
Unicef
Nestle
Mercedes-Benz
Porsche
VW
RTL
NDR
Allianz
L'Oreal
Deutsche Bank
Bosch
Siemens