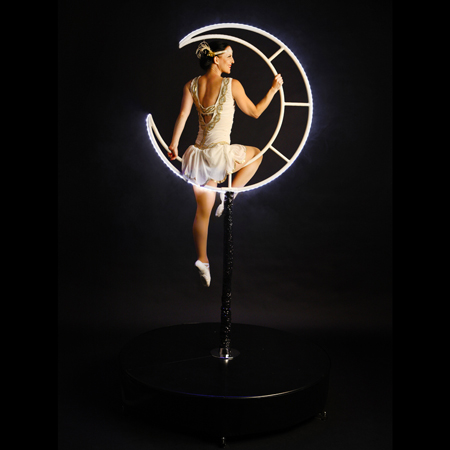 Freestanding LED Aerial Moon
Stunning aerialist with a brilliant freestanding aerial prop with inbuilt LED lights
A beautiful and classy focal point for any event, party or special occasion
Aerialist balances, contorts and drapes on her pop-up aerial prop
Stunning aerial prop can set up where normal aerialists cannot
Based in London and available for events worldwide
Freestanding LED Aerial Moon PHOTOS
If you like our Aerial Moon option but don't have the necessary means to have an aerialist hanging from your venue's ceiling, or maybe you would like an aerial act outdoors, then the fabulous Freestanding LED Aerial Moon is the perfect solution. The incredibly fascinating self-contained prop allows for a brilliant freestanding aerial show.
The Freestanding LED Aerial Moon has inbuilt lights to make it dazzling and superb for nighttime events. The amazing aerialist delivers and beautiful freestanding aerial show that is full of grace and majesty. The aerialist balances, contorts and drapes on the moon shaped prop as it gently spins on its podium.
The Freestanding LED Aerial Moon is perfect for a themed event. Whether you're hosting a glamorous gala dinner, Great Gatsby party, circus-inspired event or futuristic party, the aerialist has costumes for all occasions. 
Combining gracefulness with fluidity the aerialist provides a visually captivating aerial show that can be used as the focal point of your event or blend in effortlessly to the decor of a themed event. Our Freestanding LED Aerial Moon aerialist's stunning aerial prop is an elegant centrepiece for your event and is visually satisfying to watch. It is a simple but very effective aerial act that adds dramatic impact to your event.
If you're looking to make an impression at your next event with a stunning aerial act, but don't have a winch point at your venue, get in touch with our team of Entertainment Experts who will be more than happy to help you book the Freestanding LED Aerial Moon.