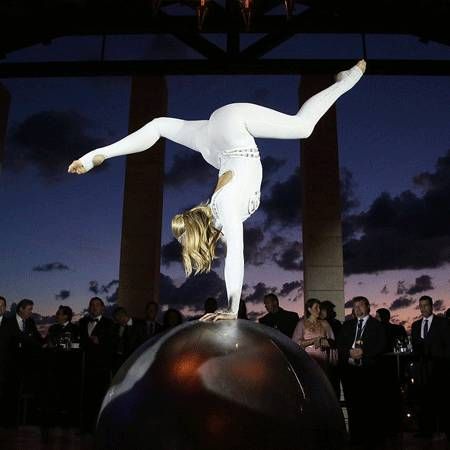 Globe Act
A simply beautiful, unforgettable and mesmerizing Globe Act
The Globe can be painted any colour to suit venue and needs
Breathtaking and versatile acrobat and hand balancing skills
Has performed on 'Britain's Got Talent', 'Dancing on Ice' and the Olympics
Previous clients include Toyota, M&S, Vogue, Sony, Reebok...
The mesmerizing Globe Act has travelled the world performing for the last 12 years. Appearing in multiple TV shows, Stage Shows, Corporate and Private events internationally, this award winning performer continues to amaze audiences with her impressive moves and elegance.
Beautiful contortion and impressive hand balance is performed by our act on top of the Globe, which looks great in any venue and can be used as decoration prior the performance. The Globe can also be painted to any colour that would complement the overall theme of the event best. Using a combination of artistic and technical moves she combines her strength, extreme flexibility and creativity to produce a spectacular show.
Having appeared on a variety of television programmes and performing for a range of entertainment needs she is a popular choice with those looking to push the boundaries and offer guests a dramatic and truly impressive visual spectacle, making her an ideal entertainment option for corporate events and product launches alike.
Vogue
London 2012 Olympics
Toyota
Reebok
And many more
Sony Music
Swarovski
Stella McCartney
Cancer Research
M&S