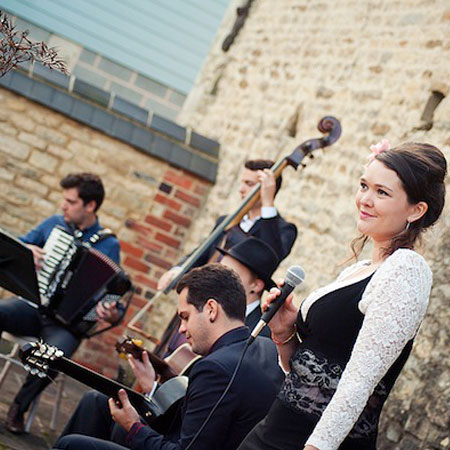 Gypsy Jazz & Swing Band
A young Gypsy Jazz and Swing band formed by three talented brothers
Their unique sound includes hot swing and touches of latin and bossa nova
They specialise in being diverse in their range of styles and song choices
Their line up can range from a full quintet to a guitar duo, or trio
Based in London and available to perform at events worldwide
Gypsy Jazz & Swing Band PHOTOS
Gypsy Jazz and Swing Band are a young band formed by three brothers, who play music from the 1920s to the 1950s. Their sound includes hot swing and touches of latin and bossa nova, where they perform in the distinctive style of gypsy jazz guitar legend Django Reinhardt.
Gypsy Jazz and Swing Band's music is perfect for many occasions and suits most venues; weddings, private parties, garden parties, festivals, vintage themed events, swing dance events, afternoon tea, sunday lunchtimes, late night bars, cafés, hotels, casinos and many more...
The band have played many private parties and Weddings and are perfect for any time of day!
Gypsy Jazz and Swing Band can tailor their music sets to just one genre but specialise in being diverse in their range of styles. They are happy to adapt their set list for your special day or occasion and will try their best to learn new songs for your event.
The band is a quintet in full, with melodic accordion/piano, two swinging fiery guitars, hot double bass and sultry vintage style female vocals. They can also be booked as a guitar duo, trio or quartet without vocals…a varied and diverse set up, just perfect for that special event.
Amersham Jazz Club
Le Quecumbar London
The National Centre of Craft & Design
Hoxley & Porter London
The Kings Head Theatre Pub London
The Stamford wine company
" Gypsy Jazz & Swing Band played our garden party in the summer and provided a fantasic atmosphere for our guests. We were not familiar with Gypsy Jazz music before but now we are hooked! Highly recomended. "

Anna Stevens
" Gypsy Jazz & Swing Band are a young and up and coming band who played here at Le Que this year. Every Gypsy/swing band in the world aspires to play here and these guys 'stormed' it at their premier performance. We are so impressed with them, that we've booked several gigs & other projects for next year. They are must 'see' for their individual technical abilities, and they are just great, easy guys to work with. They won't disappoint! "

Le Quecumbar