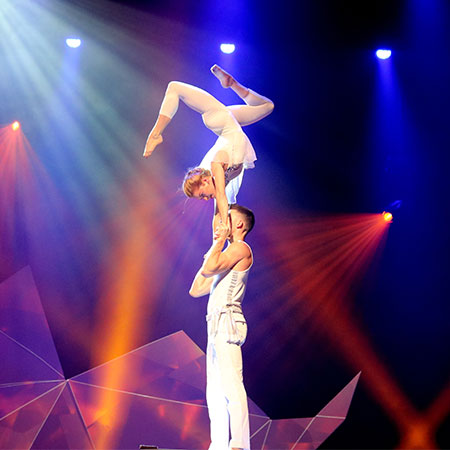 Hand Balance Duo Holland
Extremely skilled acro balance duo mesmerises audiences with their incredible strength, flexibility and partner work
Able to adapt to different spaces and customise shows to fit a theme or client's brief
Female acrobat can perform a solo hand balancing act that combines contortion with incredible acrobatics
Perfect cruise ship entertainment and also ideal for galas, ceremonies, dinners, corporate events, weddings, etc.
This Hand Balance Duo from Holland is based in Amsterdam and available for worldwide bookings
Hand Balance Duo Holland PHOTOS
Dazzle audiences at your event with one of the most traditional and popular circus disciplines. This Hand Balance Duo from Holland is guaranteed to keep guests at your event mesmerised with their breath-taking routines, a beautiful mix of body balance and gymnastic moves.
A hand balancing act completely based on trust, this acrobatic dance duo's routines are a spectacular display of strength, flexibility and coordination. Perfectly synchronised, our performers' choreography exceeds what the human body is capable of right before audience's eyes!
This acrobatic dance duo is formed by two multiksilled and experienced acrobats. They have performed at numerous events, festivals and cruise ships around the world, adapting their shows to fit different themes and according to client's brief. They can wear branded clothing, costumes, masks and even adapt their routine to different music choices.
On top of that, our female acrobat can also perform a solo hand balancing act that combines superhuman contortion moves with incredible acrobatics. Especially suitable for small spaces, she only needs a box no bigger than a chair to perform!
A popular cruise ship entertainment option, our acrobatic dance duo is also suitable for galas, dinners, after dinner experiences, corporate events, weddings, and many more! Able to adapt to different performance spaces, our acro balance duo has performed for small and large audiences both indoors and outdoors.
Top tip:
Also available as Wheel Acrobats, this versatile acro balance duo can combine both disciplines to create a unique ground routine!
Scarlett Entertainment offers a wide range of cruise ship entertainment options and hand balancing acts for events in Holland and all over the world.
Get in touch with us today and enquire about this Hand Balance Duo from Holland. Our dedicated team of Entertainment Specialists will be more than happy to provide further details on this acrobatic dance duo and guide you through the booking process.