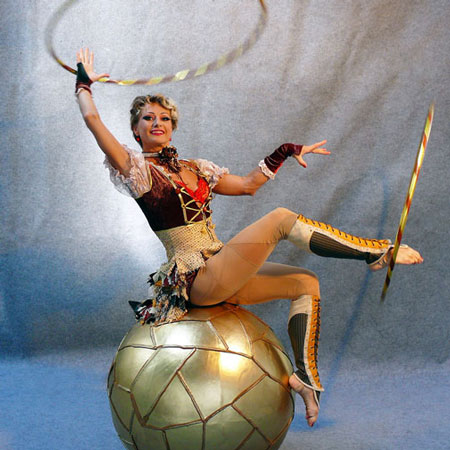 Hula Hoop & Balancing Ball Act
Dazzling hula hoop performer combined with a balancing act on a giant gold ball
Spectacular circus entertainment that will impress and amaze
Circus act first established at the Old Moscow Circus over 20 years ago
Hula hoop act is ideal entertainment for special events, dinner parties, festivals or corporate functions
Based in Germany and available internationally
Hula Hoop & Balancing Ball Act PHOTOS
When it comes to booking spectacular live circus entertainment we have plenty on offer with a top range of amazing acts to choose from. If you would like to wow your guests with a really impressive and well established act, look no further. Our Russian born, Germany-based hula hoop performer presents and highly skilled and sensational hula hoop performance combined with a balancing act on a giant gold ball. An impressive circus act to watch that is also accompanied by a lively and unusual contemporary rock and opera soundtrack.
A visually exciting feast for the eyes that is glamorous and incredibly talented. Elegantly and effortlessly this hula hoop performer balances and walks around on a giant gold ball captivating the crowd in just a few seconds. She will dazzle the audience with her stunningly passionate and intricate hula hoop act. She gracefully spins one or multiple hoops on a variety of body parts individually and simultaneously whilst moving around on the ball. The speed and charisma of the hula hoop performer is bewildering and a delight for the viewer.
The stunning multi-talented performer has many years experience in the field, having first started her circus act over 20 years ago. She has been professionally trained to a very high standard at the Kiev Municipal Academy of Variety and Circus Arts with and first showcased her fabulous and impressive act at the Old Moscow Circus. Years of performance has resulted the act to be refined to it's finest possible quality making it a sensational experience for the spectator.
She has performed at shows all over the world including Russia, Canada, Holland, Germany, Italy, Japan, Austria and France. She has worked for many high end circuses like Roncalli, and the Cirque D'Hiver Bouglione.
Our hula hoop performer has been awarded for her performance at the Red Square in Moscow, received the 'Audience Award" at the festival D'La Rampe in France and came second at the Diadogei World Cup in Shizuoka. This performer will make a wonderful addition to your upcoming special event, dinner party, festival or corporate function.
To book this amazing hula hoop act and balance act, simply get in touch with our team.
Gop Varieté
Roncalli's Apollo
Tiger Palace
Winter Garden
Crystal Palace
New Theater Höchst
Stars of the Night
Variety Musical
Friedrichsbau