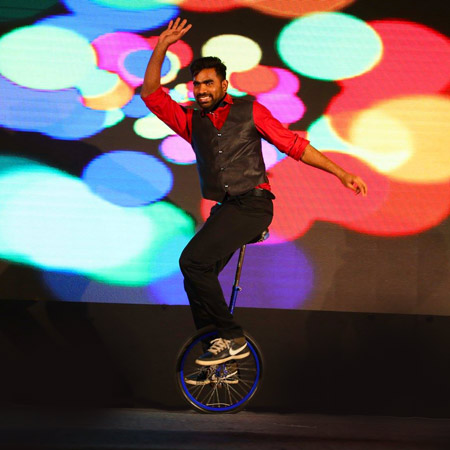 Indian Variety Performer
Award-winning multi-disciplinary circus performer with amazing skills
Tailorable spectacles to suit different audiences or different event types
Book as a variety show extravaganza or as individual performances
Clients include Apple, Fiat, Dell, Samsung, Audi, Asian Paints, Mahindra and many others
Available for events throughout India and Asia
Indian Variety Performer PHOTOS
Our totally fantastic Indian Variety Performer is a highly experienced entertainer with a range of amazing skills that can be tailored into one showcase extravaganza or several small high impact displays. He is a multi-disciplinary circus performer who currently holds two Guinness World Records; one for the longest blowing of fire and a second for egg juggling.
The Indian Variety Performer is first and foremost a professional juggler who uses a fascinating variety of different props such as balls, clubs, knives, footballs, rings and hats. He is able to combine many of his juggling with his other circus performer skills such as unicycling. 
As well as a professional juggler, he offers a range of exciting acts such as fire performances, a giant balloon act, ostrich dance, wheel dance and much more. All of his acts 
Our talented Indian circus performer has worked on a range of different events all around the world. Some of his previous clients include Apple, Fiat, Samsung, Audi, Dell, Asian Paints, Mahindra and many others. He has focused on corporate entertainment delivering exciting and diverse variety shows that are guaranteed to amaze audiences and keep them captivated for the whole duration.
A very good choice of corporate entertainment, the variety performer's acts can be tailored to 5-star hotels, cruise ships, gala dinners, private parties, brand launch parties and much more.
Based in India, the professional juggler and variety circus performer is ideally located to travel to events throughout Asia, and further afield. As a seasoned entertainer, our Indian Variety Performer knows exactly how to tailor his acts for different types of audiences.
To book this exciting multi-talented circus performer, please contact us at Scarlett Entertainment.