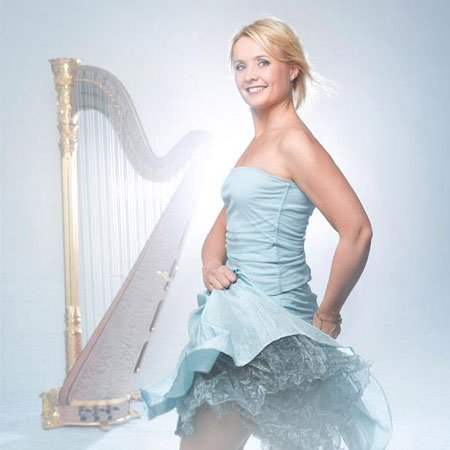 Instrumental Harpist Sidsel
Not your average musician, Sidsel is a highly sought after corporate & wedding harpist
Playing electric harp or traditional instrumentals, Sidsel can provide full shows or background music
Offering a totally unique entertainment option, our harp player can perform on an ice harp, perfect for winter wonderland events
Our professional harpist has performed at Oslo Chamber Music Festival, Trondheim Chamber Music Festival & Molde Jazz Festival
Book Instrumental Harpist Sidsel for events in Norway & worldwide
Instrumental Harpist Sidsel PHOTOS
Want to create a magical atmosphere at your event? Scarlett Entertainment represents a large roster of spectacular musicians and bands, providing high quality live shows and background music for events all over the globe. Based in Norway and available to perform throughout Scandinavia and internationally. Instrumental Harpist Sidsel is an extremely talented professional harpist with a talent for sensational live entertainment. Performing as a corporate or wedding harpist, our harp player provides traditional instrumental performances, electric harp shows and a sensational ice harp act. 
From the age of 10 our harp player knew that she wanted to perform the harp on a professional level. After studying in Oslo, Indiana and Copenhagen, our harpist took her talent to a professional level, performing both as a solo artist and alongside a variety of ensembles and orchestras including the Trondheim Symphony Orchestra, Stavanger Symphony Orchestra and  Norwegian Chamber Orchestra. 
Sidsel provides a variety of show options including
- Traditional harp: Performing at concerts, wedding receptions and festivals, our professional harpists repertoire includes a wide variety of classical compositions.
- Electric harp: Available as an accompaniment to pop concerts or a lively solo performer, Sidsel can adapt pop and jazz tunes to be played on instrumental harp.
- Ice harp: A truly unique musical performance, the ice harp is a spectacular instrument perfect for making an impression at winter wonderland and Christmas themed events.
Featured at the opening ceremony to the Ice Music Festival 2010 as well as playing alongside big name artists like Ne-Yo, Sidsel captivates her audiences with the ethereal sound of her beautiful instrument. Whether you are looking for a wedding harpist, corporate event musician or background music at your private event, our versatile live harp player will make sure your event is truly special. To find out more about booking Instrumental Harpist Sidsel for your function, don't hesitate to contact our team at Scarlett Entertainment today.
Soloists under Ice Music Festival Geilo
Soloist with Bodø Sinfonietta
Soloist during the Winter Festival of Bergstaden
Soloists under Risor Chamber Music
Soloist Concert at Factory in Oslo
Debut Concert in Copenhagen
Soloist with the Norwegian Chamber Orchestra
Shows
Ice Music Festival Geilo
IceMusic festival Val Senales Italy
Oi-oi festival in Bergen
Sevillia Turina Chamber Music Festival
Trondheim Chamber Music Festival
Musik vid Dellen Sweden
Nordic Summer nights
Olav Festival in Trondheim
Soloist
Soloist during the Ice Music Festival in Val Senales Italy
Soloists Concert in Store Studio NRK
Soloist during Trondheim Chamber Music Festival
Soloist with Murmansk Symphony Orchestra
Debut Concert in Oslo with the support of Concerts
Soloist with the Trondheim Symphony Orchestra
Concerts as a soloist in the United States Switzerland France Austria Lithuania Latvia Estonia Greenland South Africa and Scandinavia
Molde Jazz Festival
Winter Festival of Bergstaden
Church Festpillene in Kristiansand
Risor Chamber Music
Osa festival
Oslo Chamber Music Festival
Glogerfestdagene
Bergen International Festival
Soloist with Stavanger Symphony Orchestra