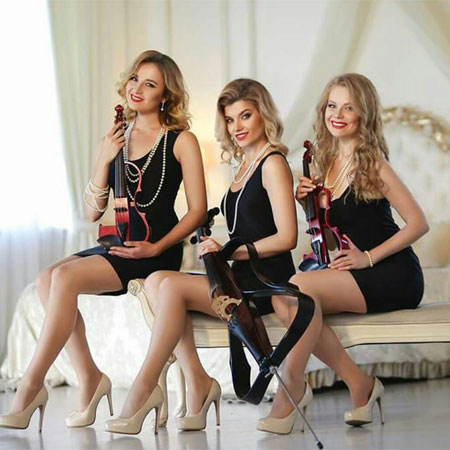 International Electric String
Glamorous Electric String trio - popular with high end corporate events
Ideal for events which demand classical entertainment with added WOW
Create an elite world of Mozart classics with a flavour of modern taste
Performed in Germany, Australia, Brazil, Russia, the USA, India...
Based in Kiev, Ukraine and available to perform at events worldwide
International Electric String VIDEOS
International Electric String PHOTOS
This Electric String Trio bring together harmoniously great sound and visual pleasure that will leave a lasting impression and the desire to keep coming back.
The group create an elite world of Mozart classics with a flavour of modern taste. Their shows bring euphoria to your senses, with excitement throughout, and unforgettable moments.
The Electric String Trio have performed in many countries including: Germany, Australia, Brazil, Sweden, Russia, Hungary, the Czech Republic, Poland, the Netherlands, the USA, India, Thailand, the Israel, Italy and South Africa.
Each member of the ensemble successfully completed the National Musical Academy of Ukraine in the name of Pyotr Ilyich Tchaikovsky, and took part in numerous concerts and shows ranging widely in style and composition.
Having been in many musical projects, and ascending from a rich musical background, they bring together a incomparable and captivating spirit.
Get in touch if you wish to find out more about this or any of our other fantastic acts.​