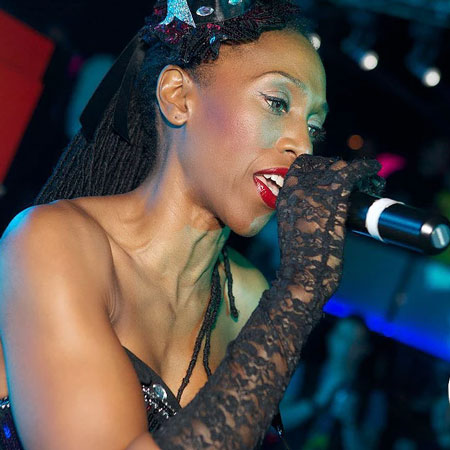 International Female Singer
Sensational and highly versatile female singer with a soulful voice
Able to perform along to backing tracks or freestyle with club DJs
Performed all over the world including venues such as Ministry Of Sound and Pacha Lounge in Russia
Previously worked with Paco Rabanne, Johnson and Johnson, Wella Hair, Merlin Group and many more
Our International Female Singer is based in London and available internationally
International Female Singer PHOTOS
Scarlett Entertainment has all your live music needs and if your looking for an exceptional and highly experienced female vocalist look no further. Our International Female Singer has a live music career that began in the late 1990s and her passion for performance is just as charismatic today. This female vocalist has a very powerful and soulful voice which she uses for contemporary covers or freestyle club performances.
Your can book our international female singer with a couple of live music options. She can use her incredible voice to deliver a set of contemporary covers along to a backing track. Here you can expect your guests to be serenaded with the likes of Amy Winehouse, Bruno Mars, Diana Ross and Bruno Mars. Alternatively, she is a highly accomplished and very experience female club singer able to completely freestyle. The really amplify DJ's set, our female club singer improvises and freestyle vocals. It makes for a better atmosphere and she loves to engage with the crowd. 
Our international female singer has performed alongside Pete Tong, in front of a crowd of over a million in Sao Paulo, appeared at international Pride celebrations, and performed all over the world including Bali, Jakata, Philippines, Istanbul and a iconic venues such as Space in Madrid, Ministry Of Sound, Pacha Lounge in Russia and Privilege Ibiza. Our female club  singer's work has received positive support and recognition amongst accredited DJ's, promoting her work through their club mix sets over the years. 
Contact our entertainment specialists to book our talented and diverse international female singer to bring the live music to your event. 
Amy Winehouse - Valerie
Barry White - Let The Music Play
Beyonce - Crazy In Love
Brothers Johnson - Stomp
Bruno Mars - Locked Out Of Heaven
CeCe Peniston - Finally
Cee Lo Green - Forget You
Cee Lo Green - Bright Lights Big City
Chaka Khan - I'm Every Woman
Diana Ross - Upside Down
Ace Of Base - All That She Wants
James Brown - I Feel Good
Kylie Minogue - Can't Get You Out Of My Head
Leona Lewis - Run
Lionel Richie - Dancin' On The Ceiling
Mark Robson - Uptown Funk
Pharell Williams - Happy
Rihanna - Don't Stop The Music
The Source FT. Candie Staton - You Got The Love
Four Tops - Reach Out
Ministry Of Sound
Johnson & Johnson
HedKandi
Marline Entertainments
Privilege Ibiza
" Ibiza soulful vocal club singer "

Merlin Events
" Performance and mental instrumentalism with a dash of disco diva "

blueFROG
" Known for her incredible sets in the legen...dary Trade Lite room, she's guaranteed to bring the fire "

Gold Diggers