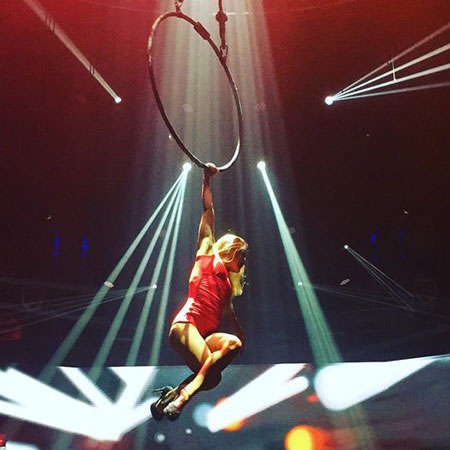 Italian Aerialist Lucia
A highly trained versatile and multi-talented aerial performer is elegant, sophisticated and stunning to behold
An Italian aerialist who has specialised performances as a hoop aerialist, silk aerialist, champagne aerialist and dancer
Member of Coni the Italian National Olympic Committee
Taught aerials in different circus schools in Milan
Based in Italy and available for worldwide bookings
Italian Aerialist Lucia PHOTOS
A versatile and multi-talented aerial performer who is not only a magnificent hoop aerialist, but is a stunning silk aerialist, champagne aerialist and dancer. Our Italian aerialist is guaranteed to WOW all audiences and guests with her elegant and highly impressive aerial routines and dances.
A highly driven and professional performer who studied modern dance, contemporary, hip hop and ballet before entering the world of circus performing. Having studied at the Italian University of Sport and Movement our aerial performer was pushed to become a multi-disciplinary and received a Bachelor degree in Sport and Movement. 
Not only is our aerialist an incredible aerial performer but our multi-talented performer has achieved a high status and regard in the circus world as she passes her knowledge and skill onto up coming aerialists in different circus schools in Milan as well as being a member of Coni - the Italian National Olympic Committee 
A beautiful Italian aerialist who has perfected her art as a silk aerialist, hoop aerialist, champagne aerialist and dancer is a hit with all audiences, perfect for gala dinners, mix and mingle events, meet and greets, private parties, brand launches and any occasion that desires elegant entertainment that is highly advanced yet sophisticated and beautiful to behold.
With an extensive roster of previous clients our brilliant Italian aerialist has performed all over the world as well as working as an aerobics instructor, master in ballet and modern dance, master in posturology and sports and physical education teacher.
There really is no limit to what this multi-talented performer can do. For more information or to book this outstanding Italian aerialist contact our Entertainment Specialists today!
Dinner Show Zurich
Inondazioni Festival
Model Swiss Magazine Blick.ch
Performer hammock French Cabaret An Evening in Paris
Performer hammock Le Carneval Lungevity Benefiting lung cancer research
Performer hoop Go Go Dancer Contorsionist
Performer hoop Capodanno Vanità Club Mantova Italy
Performer hoop Clubbing Le Cirque La casa dei gelsi
Performer hoop Matignon Paris - Aura Club
Performer hoop silk Arriva arriva..la Befana
Performer hoop/Dancer: film project "Eelan" by Leilani Lemuela Franco
Performer hoop Fullmoon Party le Mille e una Notte
Performer hoop Concours de Futurs Designers Emergents
Performer hoop RAW: Natural Born Artists Encompass Arena Montreal
Performer pouring champagne aerial hammock Casino Montreal Re-opening event
Performer silk hoop hammock Teatro Verdi Cesena
Aerial Performer hoop casted in the italian movie "La Situazione " by Alessandro Piva
Extraordinary Festival Aerial Hoop
Giovinazzo Bari Ital
Performer - Dancer Colosseum Club Jakarta
Performer hammock Lampara Club
Performer hammock PopArty Event Ex Manifattura Tabacchi
Performer Hoop Circus Night Roy Show
Performer hoop Bassano del Grappa Italy
Performer hoop Forum Apprentis Entrepreneurs
Performer Hoop / Silk Circus Twister Puigcerda
Performer hoop silk Dinner Show Two Years Anniversary Aura Club
Performer hoop "Festa d'Estate" event at Sala Ricevimenti CorteNova Casamassima
Performer hoop after party movie "Situazione" by Alessandro Piva Masseria Sant'Agapito Lucera
Performer hoop National Premiere Movie "Cirque du Soleil 3D: Worlds Away" Showville Cinema Bari Mungivacca
Performer hoop YUYAY: Benefit Show Theater Beau Bois
Performer silk hoop hammock Corners Project Expedition Puglia
And many more!
Assistant Raw Montreal February