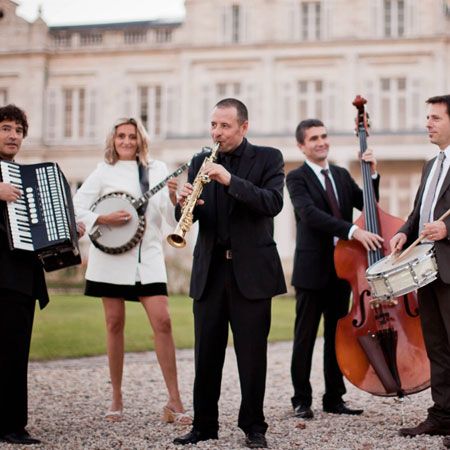 Jazz Band South France
Hugely popular jazz band are available to perform at weddings, private & corporate events
Experienced jazz musicians who have worked together for over 10 years
Jazz bands set list includes traditional jazz, latin jazz, new orleans jazz & swing which can be tailored to your event requirements
Previous clients include Phyllis Traiteur, Château Pape Clément, Le café du port
Based in Bordeaux & available to perform at events worldwide
Jazz Band South France VIDEOS
Jazz Band South France PHOTOS
Experienced Jazz musicians, our Jazz Band South France is available to perform at your next event. 
Having previously performed at weddings, corporate events and private parties all across France, the Jazz Band has performed together for over 10 years. The live Jazz Band can perform an instrumental Jazz set list only including double bass, drums, keys and sax or they can perform alongside a jazz vocalist. The classic and sophisticated style makes them a great option for cocktail lounge bars or as wedding reception music
The Jazz set list includes traditional Jazz, Latin Jazz, New Orleans Jazz and also current Jazz and Swing. 
Top Tip:
This band are available to perform in various line-ups to suit your event. So if you're looking to hire a jazz duo, quartet or even sextet the band can be tailored to your needs. Enquire today with our entertainment specialists here at Scarlett Entertainment France to find out more about booking our Bordeaux Jazz Band. 
Sweet gorgia brown
I've found a new baby
Avalon
Take the a train
Scrapple from the apple (Charlie Parker)
The girl from ipanema(Antonio Carlos Jobim)
Desafinado
Black orpheus (luis Bonfa)
Pass the peace(Maceo Parker)
Dat there (Rickie lee Jones)
Rock around the clock
The she stopped (Dizzy Gillepsie)
When the saints
Down by the riverside
Satin doll (Duke Ellington)
Someday my prince will come
Four (Miles Davis)
Corcovado
Dindi
Don't know why(Norah Jones)
Travels (Pat Metheny)
In the mood (Glenn Miller)
Petite fleur(Sidney Bechet)
Phyllis Traiteur
Yanis Texier DJ
Château Smith Haut-Lafitte
Le relais de Margaux
Prod'Artistes
Lacoste traiteur
Grand Hotel de Bordeaux
Luxury Wine Tourism
La Maison du Mariage
Atoomix Animation
Tramway de Bordeaux
Château Fonplégade
Château La Louvière
Dolist
Blow Up
Totem
Lions Club
Château Bouscaut
CC les Rives d'Arcins
La Cité Mondiale
Dagot traiteur
Château Pape Clément
Château Kirwan
Capdevielle Cuisinier traiteur
La Chartreuse de Montarvi
Château du Pian
Château Giscours
Jarretière in the air
Salles de réception.fr
B and B
Le Café Maritime
Tous les mariages
Le café du port
Château Cheval Blanc
CAPC
La compagnie des spectacles
Mairie de Bordeaux
Zénith de Pau
Office de Tourisme de Saint Emilion
Palais des congrès de Bordeaux