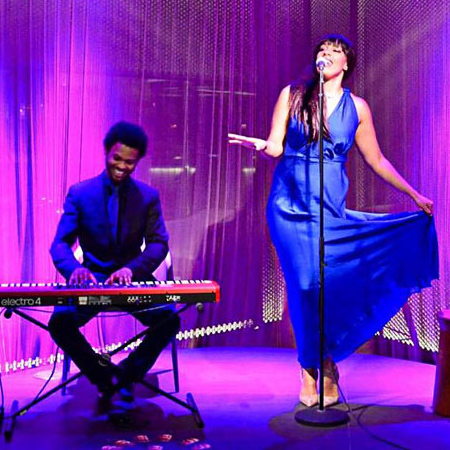 Jazz Cover Duo
Sultry and silky Vocals reminiscent of Ella Fitzgerald and Billie Holiday which you can book with a classical guitarist or Jazz pianist virtuoso
Experienced Jazz Musicians, the function duo have been performing for 8 years and have achieved degrees in music and performing arts
Our professional musicians come complete with PA equipment to fill a room of up to 850 people, perfect for corporate or private events
Jazz Duo have previously performed for well known brands including Tiffany and Co, Elizabeth Arden and The Hilton Hotel
Our Jazz cover duo are based in London and available to perform at events worldwide
Step into a world of sultry vocals and timeless instrumentals with our Jazz Cover Duo. An amazing function duo, our jazz musicians will provide live music entertainment for your next event. Suitable for a wide variety of events, our covers singer and musician are both experienced performers. Our Jazz singer can be booked with a classical guitarist or Jazz pianist virtuoso.
Tantalising with 1940s glamour and a sound reminiscent of Ella Fitzgerald and Billie Holiday, this timeless Jazz Cover Duo will make your event one to remember. With both members of the function duo successful Jazz musicians in their own right, they have both achieved degree level qualifications in music and performing arts. 
Engaging and soulful, they are Jazz musicians with a difference. Having previously performed for well known venues such as The Shard London, Core Bar and the Ruby Blue Restaurant this cover singer and musician are perfect for a wide range of events. The Jazz Duo has even recently performed at the The Park Plaza Hotel. 
The ideal wedding music duo, or covers duo for hotel residencies, their previous experience makes them an obvious choice. With PA equipment to fill a room of up to 850 people, this Jazz Cover Duo will ensure your events live music entertainment goes without a hitch. After performing for the last 8 years together, the music covers duo puts on an unforgettable show. Including re-arrangements of Jazz, Blues and Soul the Jazz singer and musician give events that extra little something that guests will love.
Located in central London, the Jazz musicians can perform worldwide and can even provide flexible performance lengths and styles specifically to suit the requirements of your event.
Talk to our entertainment specialists today to find out more about booking this amazing Jazz Covers Duo for your next special occasion.
My Funny Valentine – Ella Fitzgerald
The music goes around - Ella Fitzgerald
Blue moon - Ella Fitzgerald
At Last – Etta James
Nature boy – Nat King Cole
They All laughed – The Charlie Biddle Trio
Night and day – Ella Fitzgerald
Orange coloured sky – Nat king Cole
Life is a bowl of cherries - Doris Day
Caravan – Ella Fitzgerald
Hold me in your arms– Doris Day
The lady is a tramp – Ella Fitzgerald
Bewitched Bothered and bewildered – Ella Fitzgerald
Stormy Weather – Ella Fitzgerald
With a Song in my heart – Ella Fitzgerald
You hit the spot – Ella Fitzgerald
Blue skies –Ella Fitzgerald
Valarie – Amy Winehouse
Dream a Little dream of me – Ella Fitzgerald
Feeling Good – Michael Buble
Stronger than me – Amy Winehouse
Rehab – Amy Winehouse
Smile – Nat King Cole
(I Would Do) Anything for you – Nat King Cole
Unforgettable – Nat King Cole
Lets Face the Music and dance – Nat King Cole
Its Only a paper moon – Ella Fitzgerald
Mona Lisa – Nat King Cole
Let There be Love – Nat King Cole
When I Fall in Love  - Nat King Cole
A Nightingale Sang in Berkeley Square – Nat King Cole
Lets Do It – Eartha Kitt
The Party's Over – Nat King Cole
Christmas Reptoire:
Let it snow – Doris Day
I'll be home for Christmas – Doris Day
Baby its cold outside – Ella Fitzgerald
Jingle Bells – Brenda lee
Silent night – Ella Fitzgerald
White Christmas – Ella Fitzgerald
The Christmas Song – Nat King Cole
Deck the Halls – Nat King Cole
Frosty the Snow man – Nat King Cole
O Little town of Bethlehem – Ella Fitzgerald
Hark The herald Angels Sing – Nat King Cole
O Holy Night – Nat King Cole
Away in a manger – Nat King Cole
Santa Clause is coming to town – Ella Fitzgerald
Winter Wonderland – Doris Day
Frosty the Snow Man – Ella Fitzgerald
O Come all ye faithful – Ella Fitzgerald
Have yourself a Merry little Christmas – Doris day
Here comes Santa Clause – Doris Day
Santa Baby – Eartha Kitt
Frosty the Snowman – Ella Fitzgerald
Jazz Repetoire
All of me - John legend
Just be - Paloma faith
Use somebody - Kings of Leon
Proud Mary - Ike and Tina turner
For once in my life - Stevie wonder
I Wanna dance with somebody - Whitney Houston
Next to me - Emilie sande
Simply the best – Tina Turner
Don't stop me now – Queen
Yung heart run free – Candi staton
500 Hundred Miles – Sister Sledge
We are family – Sister Sledge
Stand By me – Ben E King
Superstition – Stevie Wonder
Aint no Mountain high enough – Marvin Gaye
All night long – Lional Richie
Happy – Pharell Williams
Get Lucky - Pharell Williams
P.Y.T. – Michael Jackson
Price Tag – Jessie J
Treasure – Bruno Mars
Rock with You  -Michael Jackson
Don't Blame it on the Boogie – Jacskon Five
Superstition – Stevie Wonder
I Got You (Feeling Good) James Brown
Papas got a Brand New bag – James Brown
American boy – Estelle and Kanye west
Play that Funky Music White boy – Wild Cherry
Burn the disco out – Michael Jackson
Uptown funk – Bruno Mars
Ain't no sunshine -  Bill Withers
Heard it through the Grapevine – Marvin Gaye
A Change Gonna come – Sam cook
Sittin on the dock of the bay – Otis Reading
Love on top – Beyonce
Halo – Beyonce
This is a mans world - James Brown
Shout – Lu Lu
Available to take Your favourite requests!
Wedding Repetoire
The Hilton Hotel
Core Bar
Ruby Blue Restaurant Leicester Square London
The Shard London
Tiffany and Co
Elizabeth Arden
The Park Plaza Hotel
" Jazz Cover Duo were thoroughly professional and an absolute pleasure to work with. They arrived early for sound check, wore catwalk ready outfits and enthralled the room. I would have no hesitation in recommending them for any events that need a dash of sparkle and soul. "

Events Manager – Elizabeth Arden
" Jazz Cover Duo has always been prompt and professional in our time working together. With a mix of neo-soul, jazz and classic covers they are able to deliver a bespoke playlist. Their tone and delivery are perfect for background music or a full-scale performance. I have no hesitation in recommending them to add value to any event and ensure you have that something special. "

Events Manager,  Ruby Blue
" Very Entertaining and joyful!! Love the Jazz!! Skuby do-wah! "

Mark bojakowski, Restaurant Diner, October
" Fantastic Singer captures the room with her singing. Beautiful voice. Would love to hear her sing again. "

Pooja Daggar – Restaurant Diner, September
" Singer was brilliant, She entertained us all night "

Jenny Parrott, Restaurant Diner, October
" Loved the atmosphere, Singer/Guitarist were ace! "

Nathan pell-fallowell , Restaurant Diner, August
" Enjoyed the ambience and live music was great. Thank you. "

Stuart Nordon, Restaurant diner, August
" Lovely! Would love to hear more, I loved caravan! "

Penelope Turner, Restaurant Diner
" [...] is the type of act you wish you could always book. She's relevant, fun, professional, has a vibrant stage presence and the voice to match. There was a lot of pressure to make our Christmas Party 2015 a standout night and [she] delivered with every song. Super cool and super talented, I have no hesitations in recommending her. "

Michelle Amir - Tiffany & Co.