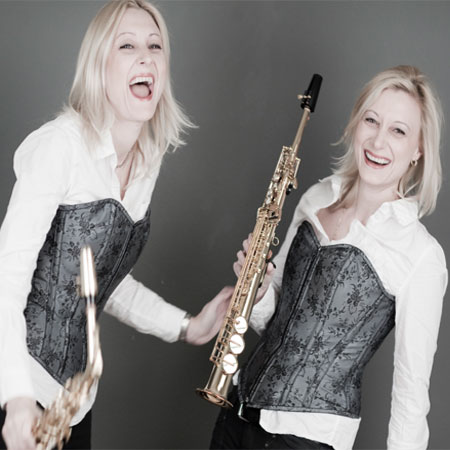 Jazz Covers Duo
Possess an infectious energy that will have everyone dancing!
Interpret famous songs into their own fun & inventive style
Play Bossa Nova, Chill Out, Jazz, Lounge & more
Perfect for weddings, birthdays, gala events, corporate functions…
Based in Germany & available to perform at events worldwide
If you're looking for a fun and energetic musical duo to liven up your event then look no further! This saxophone toting, piano playing duo will make your event one to remember with their incredible jazz reinterpretations of well known songs such as: Lenny Kravtiz's 'Fly Away', AC/DC's 'Highway to Hell', and Stevie Wonder's 'You're the Sunshine of My Life'.
They have played at some of Germany's most prestigious hotels and private venues, and are guaranteed to have even the shiest of guests up on the dance floor by the end of the night with their infectious energy and fun vibe. Whether you're organising a gala, ball, wedding, birthday, or corporate function, their versatile repertoire and years of experience will ensure that they provide unforgettable entertainment for your event.
Autumn leaves – Joseph Kosma
Brasil – Antonio Carlos Jobim
Breathless – The Coors
Baker street – Gerry Rafferty '78
Cantaloupe Island – Herbie Hancock
Celebration – Kool and the Gang
Cold Duck Time – Eddie Harris
Corcovado – Antonio Carlos Jobim
Come together – Beatles
Crazy – Gnarls Barkley
Desafinado – Antonio Carlos Jobim
Do that to me one more time- Captan & Tenille
Don't know why – Norah Jones
Dream a little dream of me – The Mamas and Papas
Georgia on my mind – Ray Charles
Easy – Lionel Richie
Englishman in New York – Sting
Every breath you take – Sting
Feel – Robbie Williams
Fever – Peggy Lee
Fields of gold – Sting
Fly Away – Lenny Kravitz
Fly me to the moon – Bart Howard
Get down on it – Kool and the gang
Get your kicks on route 66 – Nat King Cole
Going Home – Kenny G
Half a minute – Matt Bianco
Highway to Hell – AC/DC
Hotel California – Eagles
Hey Joe – Jimy Hendrix
I don't want to miss thing – Aerosmith
I'll take les – J. Scofield
I'm so excited – Donna Summer
Ironic – Alanis Morissette
Isn't she lovely – Stevie Wonder
Just the two of us – Bill Withers
Just the way you are – Billy Joel
Killing me softly – Roberta Flack
La camisa negra – Juanes
Lady – Modjo
Let it be – Beatles
Let's Groove – Earth Wind and Fire
Lily was here – Candy Dulfer
Love comes to everyone – Eric Clapton
Love generation- Bob Sinclar
Lovely day – Bill Withers
Mamma mia – ABBA
Manha de carneval – Luis Bonfa
Mas que nada – Sergio Mendez
Masquerade – Leon Russel
Mercy Mercy Mercy – Cannonaball Adderley
Misty – Erroll Garner
Moving on up - M people
Mustang Sally – Wilson Pickett
My way – Frank Sinatra
Aint no sunshine – Eva Cassidy
Night and Day – Cole Porter
No woman no cry – Bob Marley
Oye como va – Santana
Pink – Aerosmith
Pride and Joy – Bonnie Raitt
Quando quando – Julio Iglesias
Sex bomb – Tom Jones
September – Earth Wind and Fire
Silhouet – Kenny G
Song Bird – Kenny G
Song for Bilbao – Pat Metheny
Sorry seems to be the hardest – Elton John
Sunrise sunrise – Norah Jones
Summertime – George Gershwin
Sunny – Bobby Hebb
Still got the Blues – Gary Moore
Sweet home Alabama - Lynyrd Skynyrd
Sweet home Chicago – Robert Johnson
Take Five – Dave Brubeck
Tears in heaven – Pat Metheny & Joshua Redman
Tee for two – Irving Caesar
Tequila – The Champs
The girl from Ipanema – Antonio Carlos Jobim
The sky is crying – Stevie Ray Vaughan
This love – Maroon 5
Time after time – Cyndi Lauper
Two fisted mama – Katie Webster
Unchain my heart – Joe Cocker
Virtual insanity – Jamiroquai
Volare – Domenico Modugno
Walking on sunshine – Katrina and the Waves
Watermelon Man – Herbie Hancock
What's up – 4 non Blond
We are family – Sister Sledge
What a wonderful world – Luis Armstrong
Wonderful tonight – Eric Clapton
You are so beautiful – Joe Cocker
You are the sunshine of my life – Stevie Wonder
Natural woman – Aretha Franklin
Golf Club in Davos
Hotel Pilatus Kulm LU
Casino Schaffhausen in Schaffhausen SH
Grand Casino Baden in Baden
Schifffahrten Hallwilersee
Hotel Touring in Naters VS
Hotel Waldhaus am see und Hotel Cresta Palace in ST. Moriz
Hotel Krone in Solothurn
Hotel Hirschen in Wildhaus
Schloss Beuggen in Rheinfelden DE
Emil Frey AG in Biel
Hotel Sunstar in Davos
Hotel Seedamm Plaza in Pfäffikon SZ
Grand Casino in St. Galen SG
Hotel Erlibacherhof in Erlenbach am Zürichsee ZH
Bar Holzwurm in Saas-Fee VS
Hotels Riffelberg in Zermatt
Hotel Krone und Schloss Lenzburg in Lenzburg
Hotel Alexander in Basel
Hotel Belleveu in Arosa
Golf Club am Sempachersee