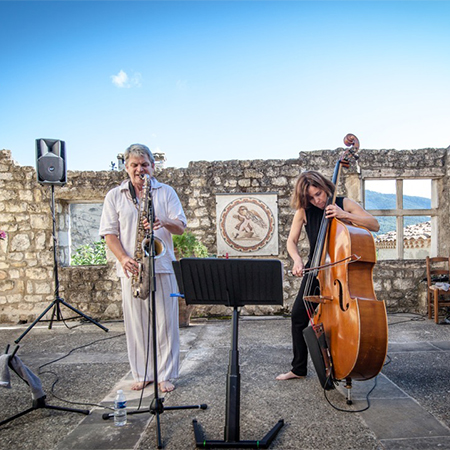 Jazz Duo Lyon
Two experienced live performers bring the authentic 1920s New Orleans jazz sound to your party
Can perform alongside other live jazz musicians like a banjo/accordion player, a trumpeter or another saxophonist/clarinetist
Set list can be adapted to suit each event specific requirements
Can perform jazz, French, Pop, Christmas and traditional Russian songs
This fantastic Jazz Duo is based in Lyon and available for performances across Europe
Bring the authentic taste of 1920s New Orleans to your upcoming celebration with this fantastic Jazz Duo, a pair of live jazz musicians with a varied repertoire that can be adapted to satisfy the tastes of different listeners.
Able to adapt their set list to your event specific requirements, our experienced live musicians can play songs from different genres and provide them with their own personal sound. Although this pair of experienced jazz performers usually performs as a duo, they can ask other live jazz musicians to join them on stage, so their line up can be completed with banjo/accordion player, a trumpeter or another saxophonist/clarinetist.
Originally, our Jazz Duo consists of one talented male saxophonist and a wonderful female double bassist whose chemistry on stage will captivate your guests from the very first minute. This pair of live jazz musicians are really passionate artists who are specialists in creating an atmosphere in which audiences feel relaxed and at ease. 
Especially applauded by jazz lovers, this live music show can be designed to satisfy also the tastes of pop music fans, French music listeners or traditional Russian music followers. Our experienced live performers can also be booked for Christmas parties as they can play songs such as 'Let It Snow', 'Santa Claus is Coming to Town' or 'Silent Night'.
Whether you're planning a company party, hosting a birthday, business event or gala or you're looking for an authentic New Orleans jazz sound at your wedding, this Jazz Duo is definitely the ideal live music entertainment for your special occasion.
At Scarlett Entertainment we pride ourselves of providing a wide variety or jazz duos and jazz bands for events worldwide.
Provide your event with fantastic live entertainment music by booking this fantastic Jazz Duo. Our live jazz musicians are based in Lyon and are available for performances throughout France in surrounding European countries like Switzerland, Italy, Belgium and Spain. Contact our specialists today and make your enquiry today.
(As a duo or a quartet)
After you've gone
All Of Me
Caravan
Hello Dolly
Les Oignons
Petite Fleur
French Songs
(As a duo or a quartet)
C'est Si Bon
La Javanaise
La Belle Vie/The Good Life
Les Copains D'abord
Roses de Picardie
Pop Songs
(As a duo or a quartet)
Fever
Georgia on My Mind
Hallelujah I Just Love Her So!
Just The Two Of Us
My Heart Belongs To Daddy
Sunny
Yesterday
Jazz New Orleans
(As a duo or a quartet)
Frosty the Snowman
Let it Snow
O Tannenbaum
Santa Claus is Comin'
Silent Night
Traditional Russian Music
​(in trio with accordion)
Christmas songs
Pralognan Ski Station
Casino "Le Lyon Vert"