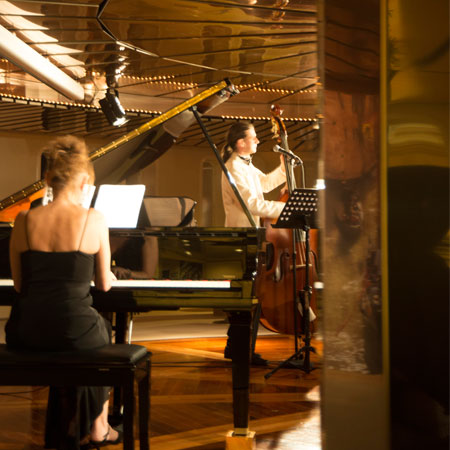 Jazz Pianist & Singer Monaco
A repertoire of jazz standards, popular melodies and latin favourites
Versatile live musician who plays the piano and also delivers stunning vocal arrangements
Can perform alongside other musicians and be part of a trio, quartet or quintet
Popular with corporate events, gala dinners and cocktail receptions
Based in Monaco and available to perform at events worldwide
This highly talented Jazz Pianist & Singer based in Monaco plays exquisite subtle Jazz Cocktail Music, with a repertoire of standards, and Latin favourites.  This versatile musician can play the piano and also delight audiences with her melodious voice. She performs exclusive, high quality music guaranteed to create a relaxing atmosphere whatever the occasion!
Our live pianist and singer is always happy to share the stage with other musicians and performers. She has performed as part of live bands, orchestras, quartets and quintets, playing for dancing - quicksteps, waltzes, cha cha's etc.  
If you're interested in booking this fantastic Jazz Pianist & Singer Monaco, don't hesitate to get in touch with us today and make an enquiry.
Our in-house team of Entertainment Experts will be happy to provide further information on this talented live musician and assist you in the booking process.
Ballads:
Skylark
Misty
The Way you Look Tonight
Round Midnight
Imagination
Teach me Tonight
Stormy Weather
The Good Life
Willow Weep for Me
You're my Everything
Tenderly
When I fall in Love
I Loves you Porgy
Embraceable You
Everytime we say Goodbye
Everything Happens to me
I Can't get started
My Funny Valentine
The Man I Love
As Time Goes By
I only have eyes for you
Someone to Watch over me
Summertime
Swing: Medium/Up Tempo
Satin Doll (Up Swing)
Straighten up & Fly Right
Don't get around much Anymore
Autumn Leaves
Fly me to the Moon
Undecided (Fast Swing)
Blue Moon
Pennies from Heaven
Twisted
Witchcraft  (Med Swing)
Yesterdays
Take the A Train
Someday my Prince will Come 3/4
Bernies Tune
Dearly Beloved (Fast Swing)
Don't Blame Me
God Bless the Child (Jazzy Funky)
Love for Sale (Up Swing)
Easy to Love
Bye Bye Blackbird
April in Paris
Ain't Misbehavin (Fast Trad Swing)
East of the Sun
I get a Kick out of You
Latin:
Wave (Bossa)
Girl from Ipenema (Bossa)
New York Afternoon
So Nice
Mas Que Nada
On Green Dolphin St
September in the Rain
Here's that Rainy Day
One Note Samba
Laura
The Shadow of your smile
Desafinado (Bossa)
Moon & Sand
Standards:
Ballads:
I got it bad and that ain't good
Georgia
Body & Soul
Solitude
Love Letters
The Nearness of You
When sunny gets blue
That old feeling
The Way you look tonight
Summertime
Stairway to the stars
My Foolish Heart
Lover Man
When I fall in Love
When I look in your eyes
In a sentimental mood
Unforgettable
Moonlight Serenade
Bewitched
Jazz & Latin Standards
I Got Rhythm (Fast Swing)
I could write a book
On a Clear Day
Nice Work if you can get it
Blue Moon
I've got you Under my Skin
Come Fly with me  (Med Swing)
It's Only a Paper Moon
A Foggy Day
They can't take that away from me
Fascinating Rhythm (Fast Swing)
The Lady is a Tramp (Up Swing)
Night & Day (Latin Swing)
I'm Beginning to See the Light
Manhattan
Just Friends
Mean to Me
Makin Whoopee
It don't mean a thing if it aint got that swing  (Up Swing)
Nice work if you can get it
They can't take that away from me
Summertime (Jazz Waltz)
Popular Tunes: Middle of the Road
Ballads:
Feelings
Cry me a River
Imagine
Let it Be
Promise Me
Loving You
More
Close to You
Fields of Gold
We've only just begun
Yesterday
I only have eyes for you
Alfie
This Masquerade
Nature Boy
Good Morning Heartache
Killing me Softly
New York State of Mind
Send in the Clowns
Med & Uptempo
Just for You
Laughter in the Rain (Disco/Funk)
Breaking up in hard to do (Med Shuffle)
You are the Sunshine  of my Life
Route 66 (Uptempo Shuffle)
Feel like Making Love (Disco/Funk)
Do you know the way to San Jose (Funky Bossa)
Arthurs Theme
Don't it make my brown eyes blue
My Guy (Med Shuffle)
Let's stay together (Med Funk)
Moondance (Med/Uptempo Shuffle)
Just for You
Our Day will Come
Day by Day
The More I See You (Funky Shuffle)
Easy
Just the Way you Are
Girl Talk
Walk on by (Groovy Funk)
Sunny (Groovy Funk)
Midnight at the Oasis (Med/Funk)
This Guys in Love with you
Isn't she Lovely (Disco/ Funk)
Other Repertoire consists of:
A Country Set: Classic country songs including - Jambalaya Lying Eyes etc...
Broadway Set: Show Tunes including - Getting to Know you Cabaret I could have danced all night etc...
A Beatles Set: Eight days a week Can't buy me love And I love her etc...
1950's Set: Hound Dog See you later Aligator Rock around the Clock etc...
Film Night Set: As time goes by I wanna be loved by you Singing in the rain etc...
Swing: Med/Uptempo