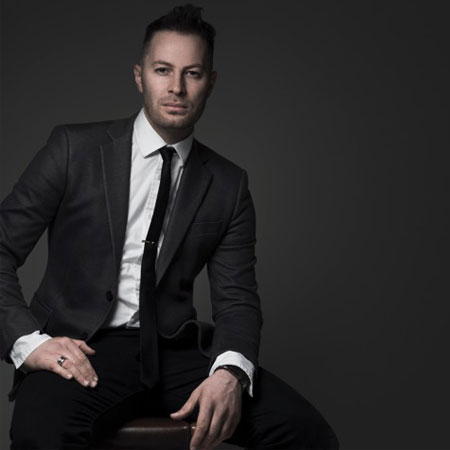 Jazz Singer and Live Band
Sensational vocal performances and incredible musicianship create a memorable live music experience
Repertoire encompasses new and eclectic swim and jazz arrangements of popular standards and contemporary classics
Can perform as a solo jazz singer or along side a 3 - 17 piece big band
Previous clients include: Sir Alex Ferguson, Manchester United, Aston Martin, Herbalife and Rolls Royce
Based in Manchester, UK and available to book for events worldwide
Jazz Singer and Live Band VIDEOS
Jazz Singer and Live Band PHOTOS
An acclaimed artists renowned for his phenomenal vocal performances, engaging showmanship and eclectic repertoire, and jazz singer and his live band offer up an incredible live music performance that will perfectly compliment corporate events, weddings, private parties and international concerts. 
Our jazz singer from Manchester will leave an indelible mark on your guests and his audience with his impressive performances that transport listeners to a world of smooth jazz and swinging rhythms. His repertoire spans across a range of new and eclectic swing and jazz arrangements of popular standards and contemporary classics - all of which have been given their own unique twist. He also performs outstanding originals and dance floor fillers, meaning he can create a custom performance that will be perfect for your event. 
It has been said that his strong melodic voice breathes fresh life into the genre and allows his to effortlessly switch between musical genres. His timing, phrasing and interpretation is impeccable and sees him bring to life the great works of Sammy Cohn, Cole Porter, Cy Coleman and many others from 'The American Songbook'. 
A testament to his vocal prowess and engaging stage presence, our male jazz vocalist has performed at events that include Wayne and Coleen Rooney's wedding in Italy, for Sir Alex Ferguson, at Lady Catherine's 50th wedding anniversary, for Manchester United, Aston Martin, Herbalife and Rolls Royce. He can offer a swing band for weddings, a solo jazz performance for a dinner, a big band for a produce launch… the options are endless. 
Able to perform as a solo jazz singer or alongside his stellar jazz band who can performed as a 3, 4, 6, 7, 13 or 17 piece big band he can adapt his performance line-up to suit the size and scale of your event and venue. So if you're looking to hire a big band, or just a solo jazz singer - it's no problem!
Get in contact with our experienced Entertainment Coordinators to find out more about booking our Jazz Singer and Live Band for your event. They'll be more than happy to discuss which configuration will best work for your event. 
Adventure Of A Life Time
Aint No Sunshine
All For You
And I Love Her
And I You So
Angels
Assassin
Bad Bad Leroy Brown
Beyond The Sea
Bitter Sweet Symphony
Blame It On Me
Bloodstream
Budapest
Cant Take My Eyes Off Of You
Come Fly With Me
Copacobana
Crazy Little Thing called Love
Cry Me A River
Cupid
Dancing In The Moonlight
Disco 2000
Englishman In New York
Fields Of Gold
Fly Me To The Moon
Fragile
Fragile Like Crystal
From Russia With Love
Happy
Havn't Met You Yet
Hey Laura
Hold On We're Going Home
Home
Human
I Bet You Look Good On The Dancefloor
I Feel Good
I Predict A Riot
It Had to Be You
Ive Got you Under My Skin
L-O-V-E
Learn to Fly
Let There be Love
Lost
Mack The Knife
Mambo Italiano
Maybe Tomorrow
A Foggy Day
Moon River
Moondance
More
Mr Bojangles
Muchachita
Music To Watch Girls go Bye
My First Last Everything
My Funny Valentine
My Lovin' Arms
My Way
New York
Night And Day
Oh Look At Me Now
On Days Like These
Pappa loves Mambo
Pennies From Heaven
Portrait Of My Love
Recipe For Love
Ruby
Sailaway
Seven Nation Army
Sir Duke
Smooth
Softley As I Leave You
Somebody Told Me
Soulman
Straighten up And Flyright
Sunshine Of Your Love
Superstition
Supreme
Sway
Sweet Caroline
Teach Me Tonight
Thats Amore
The Impossible Dream
The Snake
The Summerwind
Twisting The Night Away
Viva La vida
We Are In Love
Where And When
Who can I Turn Too
Witchcraft
You Never Can Tell
...And many more
Modern Way
Co-op
Herbalife
Maester Grun
Marie Curie
Sheffield Wednesday
...And many more!
Aston Martin
Edward Lowell
Irwin Mitchel
Manchester United
NSPCC
Bentley
" Did the right voice come along or what... He's an incredible singer "

Eliot Kennedy - Grammy Winning writer and producer
" This show is a promoters absolute dream... great audience appeal, terrific musicianship and one of the UK's very finest vocalist... Sure to generate repeat gigs everywhere it plays! "

Dr Ian Darrington MBE - Director and co -founder Wigan International Jazz Festival
" He looks like a young man that could really hit the mark, with the looks and vocal ability to back it up, This swing singer looked very easy and natural on stage and vocally he really is a stand - out' "

Mark Ritchie - The Stage
" This is a young talent to watch, he should go far "

Sheila Tracy - BBC presenter / Big Band
" Voice is great "

Will.i.am