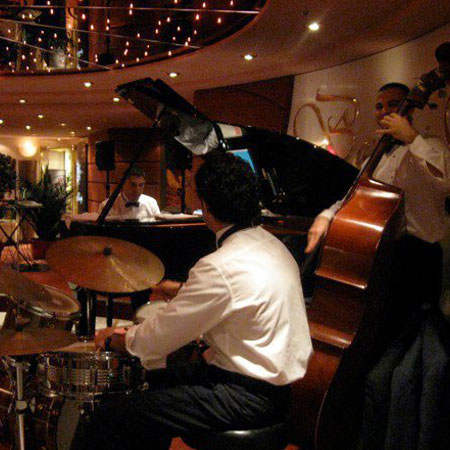 Jazz Trio Italy
Sensational instrumental jazz trio will perfectly compliment your next event
Comprised of a collective of talented and experienced musicians that can be joined by a female singer
Atmospheric background music or toe-tapping dance music with a jazz singer
Performed at the 7 star Burj al Arab Hotel and La Mamounia Hotel
Book our Jazz trio to perform at events in Rome, Italy and the rest of the world
Our sensational instrumental jazz trio will create an atmosphere to perfectly compliment your event, whether it is a sophisticated drinks reception or buzzing hotel function.
Comprised of amazingly talented and experienced professional jazz musicians, our jazz trio create magical jazz music that will send shivers down their audiences' spines! A testament to the immense quality of their performances, they most recently performed as the 7 star Burj al Arab Hotel's house band and at the La Mamounia Hotel in Marrakesh. They have also worked for MSC Cruise Lines and Celebrity Cruises.
With a smooth and sophisticated style that gives them a universal appeal, book our traditional jazz trio for weddings in Rome and Italy, and hire our jazz trio for corporate events, drinks receptions, cruise lines, hotels and restaurants as ambient background music.
Top Tip:
Add a saxophonist or jazz singer to the mix and transform this sophisticated trio into a swinging jazz band.
As well as being able to tailor their line up to go from ambient entertainment to live jazz band, they can also create a custom set list to suit your requirements.
To book this talented jazz group for your event contact our team of Entertainment Experts.
Aguas de março
Ain't no sunshine
All about that bass
All night long
All of me
All you need is love
Amore disperato (Nada)
At last
Autumn leaves
Azzurro
Baciami piccina
Billie jean
Bimba se sapessi (S. Caputo)
Blue moon
Born to be blue
But not for me
Can't help falling in love
Can't take my eyes off you Caravan
Chain of fools
Change the world (Clapton)
Che cosa c'è
Cheek to cheek
Città vuota (mina)
Come together
Corcovado
Cornflake girl
Don't know why
Don't you worry about a thing Dream a little dream of me
East of the sun
Easy
Easy living
Easy to remember
Englishman in New York
Every breath you take
Every little thing she does is magic Evertytime we say goodbye
Eye in the sky
Fallin' (Alicia Keys)
Feeling good (Nina Simone)
Fever
Fly me to the moon
For once in my life
Fragile
Garota de ipanema
Georgia on my mind
Get Lucky
Georgy porgy
Gravity
Have you ever seen the rain
He wont' go (Adele)
Heard it to the grapevine
Hey jude
Higher ground
Hit the road jack
Home (Blublé)
Human nature
I can't get started
I can go for that
I can help it
I don't mean a thing
I get a kick out of you
I got rhythm
I just called to say I love you
I just wanna make love to you I never can say goodbye
I remermber you
I want a little sugar in my bowl I will survive
I wish
I've got a woman
I've got you under my skin
If I ain't got you
Il cielo in una stanza
Imagine
In a mellowtone
In alto mare
In cerca di te
Isn't she lovely
It's allright with me
Jealous guy
Just the two of us
Just the way you are
Kiss
La vie en rose
Let it be
Let it snow
Let the good times roll
Let's call the whole think off Let's do it
Let's fall in love
Let's stay together
Life on Mars
Living for the city​
A foggy day
Love is in the air
Lovely day (bill withers) Lullaby of birdfland Malafemmina
Man in the mirror
Mas que nada
Master Blaster
Me and Mister Jones
Misty
Moanin'
Moondance
Mustang Sally
My baby just care for me
My way
Natural woman
Nel blu dipinto di Blu
Nessuno (Mina)
Night and day
No one (Alicia Keys)
O pato
O sole mio
On the sunny side of the street Our love is here to stay Overjoyed
Over the rainbow
Parole parole parole
Quando quando
Raindrops keep falling on my head Respect
Rocket man
Rolling in the deep
Rosalina (Fabio Concato)
Round Midnight
Route 66
Roxanne
Samba de uma nota so
Se stasera sono qui
Se telefonando
Senza fine
Sing it back
Sir Duke
Sittin' on the dock of the bay Sometimes it happens
Smooth Operator
Solo me ne vo' per la città
Son of a preacher man
Stand by me
Spaghetti a Detroit
Spain
Stasera che sera
Straight no chaser
Street life
Summertime
Sunrise (Norah Jones)
Sunny
sunshine of my life
Superstition
Sweet love
Take the a train
Tears in heaven
That's amore
The lady is a tramp
The nearness of you
The touch of your lips
The shadow of your smile
The way you look tonight
The way you make me feel
These foolish things
They can't take that away from me Time after time
Time of my life
Too hot
Toxic
Tu vuo' fa l'americano
Una sigaretta (buscaglione)
Use me (Bill Whiters)
Vacanze Romane
Valerie
Via con me
Voglio vivere cosi
Wave
We are the world
What a difference a day made
What a little moonlight can do
What a wonderful world
What's going on
Why
We're in this love together
Wonderful tonight
You are so beautiful
You go to my head
You gotta be (Des'ree)
You know I'm no good (Amy Winehouse) Your song
'S wonderful​
Louisiana sunday afternoon Love (Nat king Cole)