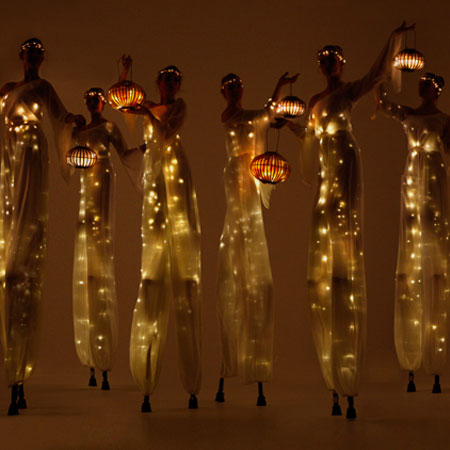 LED Lantern Props
Stunning LED lantern act creates a beautiful and serene atmosphere at events
LED walkabout act with gorgeous LED lanterns and sparkling costumes make a beautiful sight
Amazing LED stilt walkers are sure to catch every eye with their elegant and heavenly performances
Arcadian LED act can be performed as an ambient roaming act or mesmerising stage show
Brilliant LED performers based in the UK and available worldwide
Bring a sense of classical beauty and elegance to your event with our amazing LED lantern act. Our beautiful LED performers create a stunning sight in their flowing dresses, delicately ornamented by softly glowing LED lights. Each of our performers carries a beautiful LED lantern to illuminate your event with a gorgeous glow that creates a magical and enchanting atmosphere. Our Arcadian themed LED walkabout act is a unique and captivating performance formed from simple, elegant movement and choreography combined with stunning LED costumes and technology. This Arcadian LED act can be performed on foot or atop stilts to make an eye catching and heavenly sight for guests to enjoy. Our LED stilt walkers have performed all over the world at some of the biggest events and venues in the world and their amazing routines never fail to impress. 
Our LED lantern act is a graceful and serene performance that draws viewers in to a beautiful world of radiant light and beautiful choreography. This Arcadian LED act is perfect for outdoor events and for illuminating parties, weddings and events with an enchanting glow. Our LED stilt walkers make a magical sight with their LED lanterns, classical costumes and light-adorned dresses. Our LED lights are a great alternative to fire or ribbon based performances and work well in smaller spaces or for creating a softer, gentler performance.
This talented group of LED performers have wowed audiences worldwide with their variety of performances, including unforgettable performances at Buckingham Palace, the BAFTA Awards and a private performance for the King of Jordan. Our LED walkabout act can offer a freestyle ambient performance or a choreographed stage show that's sure to mesmerise the whole audience.
 Scarlett Entertainment lead the way in providing top quality LED and glow acts for events worldwide.
To book our LED Lantern Props or another great act, contact our expert team.
The King of Jordan Harrods
The Indian High Commission
The Commonwealth Film Festival
The Tate
Glastonbury Festival
ITV
MTV Al Jazeera
Somerset House
Brit Awards
Vivienne Westwood
Claridges
The Olympics Committee
The V&A
Wilderness
The BBC
Channel 4
Selfridges
The O2 Arena
BAFTA Awards
Buckingham Palace