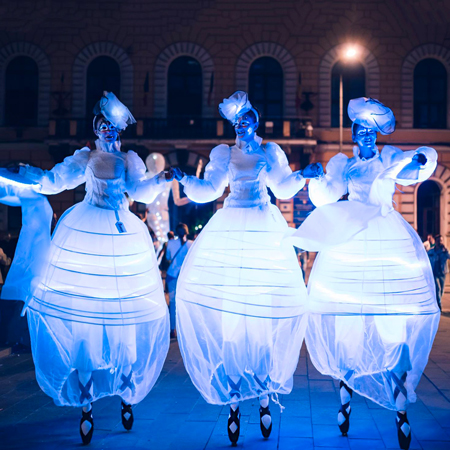 Light Ballerinas On Stilts
Gloriously elegant LED stilt walkers with unrivalled splendour and luminescence
Haute couture dresses accessorised with colourful LED lights and stilts made to look like legs and ballet pointe shoes
Available with peacock feather fans, material fans with LED lights, gymnastic ribbons or can make giant soap bubbles
Eye-catching walkabout entertainment that will make your event memorable
Based in Romania, this walkabout act is available for events all over the world
Light Ballerinas On Stilts PHOTOS
These gloriously elegant Light Ballerinas On Stilts bring an unrivalled splendour and luminescence. The three beautiful dames are an attraction that fascinates onlookers and capture the attention of passers-by. Evoking fractal fantasy with the classical sophistication of ballerinas, the LED stilt walkers truly are a thing of beauty.
Unmistakable walkabout entertainment that attracts attention
Whether booked for a daytime or nighttime event, the Light Ballerinas On Stilts provide etherial walkabout entertainment that never fails to capture the attention of the audience. Perched on 80cm stilts masked as ballet pointe shoes, the LED stilt ladies gracefully wander through your event whilst clearly standing out above the crowd.  The Light Ballerinas On Stilts' main characteristics are the totally fabulous dresses custom-made by fashion designers and accessorised with colourful LED lights which illuminate the walkabout act in dark conditions. The LED stilt ladies are completed with extravagant headpieces and spectacular makeup. 
Illuminate you event with LED stilt walkers 
The stunning LED stilt ladies offer an uplifting and magical walkabout entertainment experience. They fascinate all audiences, old and young, who are mesmerised by the fashionable walkabout act and dazzling lights. The LED stilt walkers can be booked as part of a parade or to roam around your event space. Depending on your preferences, the walkabout act is available with a variety of accessories including peacock feather fans, material fans with LED lights, gymnastic ribbons or can make giant soap bubbles.
Book the LED walkabout act for your event.
If you're looking for unforgettable walkabout entertainment that will engage with your guests, the Light Ballerinas On Stilts are a fantastic choice. Contact our team at Scarlett Entertainment to find out more.