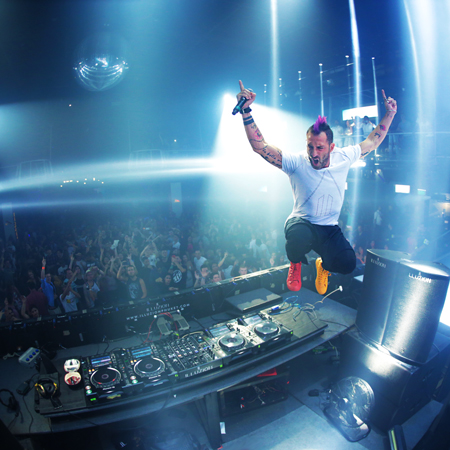 Live EDM DJ
Charismatic EDM DJ makes audiences dance with some of the very best electronic dance music and progressive house
Highly energetic shows include live performances on an electronic percussion tab
Highly rated Beatport producer and has spent two years as an official resident DJ at one of the world's top 100 clubs as ranked by DJMAG
DJ has shared stages with Martin Garrix, Steve Aoki, Nicky Romero, Marshmallow, Blasterjaxx, Quentin Mosiman and many others
Based in Phuket, the DJ and producer is available for events anywhere around the world
With a life goal to make people dance, our live EDM DJ in Thailand is an incredibly charismatic showman who goes much further than just playing a few songs, he's an entertainer. As well as playing some of the very best electronic dance music and progressive house, the EDM DJ will be found at the front of the stage playing on his electronic percussion tab and creating an electric atmosphere.  
Our Italian EDM DJ in Thailand has been an official resident at Illusion in Phuket, one of the world's top 100 clubs as ranked by DJMAG, for two years as well as a top 100 Beatport charts DJ and producer. Every month he collaborates with many DJs to release new tracks which are always successful in Beatport world charts.
The Italian DJ and producer has performed all over the world. From the biggest nightclubs in Italy, Europe, the Middle East to Japan and South Asia, the EDM DJ has made hundreds of thousands of people dance. The renowned Italian DJ has shared stages with huge DJs like Martin Garrix, Steve Aoki, Nicky Romero, Marshmallow, Blasterjaxx, Quentin Mosiman and many others. 
Our live event EDM DJ will provide you with an hour and a half of non-stop dancefloor bangers. During his live show the EDM DJ will perform several electronic drums sessions, up to 10 times during each set. This brings an added dynamic that really engages with the audience. 
Having been used to playing on some huge stages worldwide, the DJ and producer has impressive visual materials for the screens on the stage. 
Contact our expert team if you would like to book a fantastic EDM DJ for your next live event, or for any event around the world.