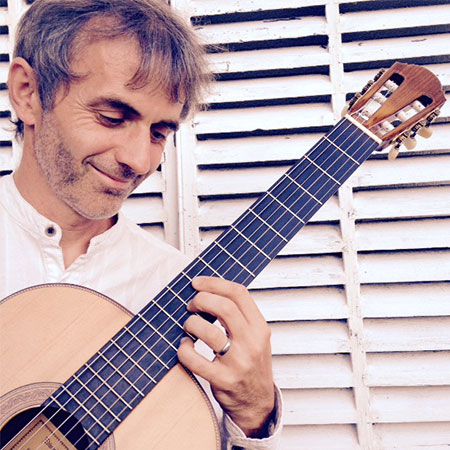 Live Guitarist France
A guitar master who can perform background instrumental songs at your wedding or ceremony
Can perform along with other musicians and offer performances with singers, quartets, and many more
Repertoire covers different genres such as Latin, jazz, folk, traditional Spanish songs, etc.
Can also play his own compositions and make musical arrangements for your event
This Live Guitarist is based in Southern France and available for bookings worldwide
Live Guitarist France VIDEOS
Live Guitarist France PHOTOS
Ensure guests at your upcoming party or wedding enjoy some nice background guitar music by booking this Live Guitarist from France, a versatile musician who can play both the classical and electric guitar and play a number of different music genres including jazz, Latin, folk and Spanish classics, among others.
Backed by years of both professional and academic experience, this guitar master studied at the Royal Welsh College of Music and Drama, where he undertook masterclasses with big names such as John Mills, David Russell and Robert Spencer, to name a few. Under their guidance, he won several prizes and medals during his training period.
Throughout his fruitful career as a soloist, our electric and Spanish guitar player has captivated listeners in countries like Hungary, Brunei and Japan. This versatile artist can perform along with other live musicians and perform at your party or event with live bands, trios, quartets, live singers, and many more.
His wide repertoire covers different music genres and styles. Some of the most famous background instrumental songs he can play include 'Ave Maria' by Schubert and 'Hallelujah' by Leonard Cohen, covers that couples getting married usually request for their wedding ceremony. As a live acoustic guitarist, he can also play famous hits by Frank Sinatra and Elvis Presley and more re chart-topping songs such as 'All of Me' by John Legend or 'A Thousand Years' by Christina Perri. You can see his full set list by checking the tab above.
Regularly performing background guitar music at evening concerts, wedding ceremonies and garden parties, this live acoustic guitarist is a specialist at creating a relaxing and pleasant atmosphere in which people can enjoy a nice meal, drinks or a conversation whilst he plays.
Scarlett Entertainment offers a wide variety of guitarists for events and occasions all over the world.
If you're interested in booking this Live Guitarist from France, then don't hesitate to get in touch with us today and ask to speak to one of our Entertainment Coordinators. They will be more than happy to provide further details on this electric and Spanish guitar player and assist you in the booking process.
Adelita
Asturias
Cadiz
Francisco TARREGA
Gran Vals (listen)
Isaac ALBENIZ
Joaquin MALATS - Serenata Espanola
Joaquin RODRIGO - Concierto de Aranjuez
Lagrima
Recuerdos de la Alhambra
Rosita (Gavotte)
From the Americas
Astor Piazzolla (Argentina) - Verano Porteno
Augustin Barrios-Mangoré (Paraguay)
Choros
Etudes 1 2 7 11 & 12
Heitor VILLA-LOBOS (Brazil)
J. Pernambuco (Brazil) - Sons des Carriholles
Julia Florida
Leo Brower - Canción de Cuna on a Theme of Grenet (Berceuse)
Preludes 1-5
Une Limosa por el Amor de Dios
Vals op.8 no.4
English Tradition
Anon. Greensleeves (and other English Dances)
Benjamin Britten - Nocturnal after John Dowland
John Dowland - Pavanes & Galliards (16th Century)
Works by Gaspar Sanz and Robert de Visée
Jazz Standards (as a soloist)
All of Me
All the Things You Are
Fly Me to the Moon
Georgia on My Mind
La Mer
Moanin'
My Baby Don't Care for Me
Summertime
What a Wonderful World
Baroque Guitar (performed on a replica 17th Century Instrument)
Francisco Corbetta - Suite in C
Gaspar Sanz Preludes Pavane & Canarios
Robert de Visée - Suite in D minor
Santiago de Murcia - Dances
Popular and Folk Music
All My Loving
All You Need is Love
Christina Perri- A Thousand Years
El Condor Pasa
Ellie Goulding - How Much Do I Love You
Elvis Presley - I Can't Help Falling in Love With You
England - Scarborough Fair
Here Comes the Sun
John Denver - Annies Song
John Legend - All of Me
Myfanwy
Passenger - Let Her Go
Robbie Williams - Angels
Scarborough Fair
Scotland - The Wild Mountain Thyme
Simon and Garfunkel
Sting - Fields of Gold
The Beatles
The Fool on the Hill
The Proclaimers - Five Hundred Miles
The Sound of Silence
Wales - Heno Heno Hen Blant Bach
Yesterday
From Spain
Bach - Prelude BWV 1007
Mendelssohn - The Wedding March
Pachelbel - Canon in D
Schubert - Ave Maria
Violin and Guitar
Alexandre BORODIN - Noctune
Antonio VIVALDI - Themes from The Four Seasons
Jay UNGAR - Ashokan Farewell
Joseph HAYDN - Andante Cantabile Op. 3 no. 5
Leonard COHEN - Hallelujah
Ludvig Van BEETHOVEN - Minuet in G
Léo DELIBES - Waltz from Coppelia
TRAD. Ireland - The Londonderry Air
TRAD. Scarborough Fair
TRAD. The Wild Mountain Thyme
Guitar Duo
Choice Jazz Standards including
Fly Me to the Moon
John Legend - All of Me
Leonard COHEN - Hallelujah
Luis BONFA - Black Orpheus
Plus a very wide range of Popular Music in Jazz and Funk Styles including:
Stevie WONDER - Isn't She Lovely
The Dave BRUBECK QUARTET - Take 5
Guitar Accordion Saxophone and Violin
André VERCHUREN - La Carillon d'Alsace
Jay UNGAR - Ashokan Farewell
Jean RENOIR - La Complainte de la Butte
Patrick BRUEL - Mon Amant de St Jean
TRAD. - Scarborough Fair
TRAD. - The Wild Mountain Thyme
Yann TIERSEN - La Valse d'Amelie
Quartet (Instrumental)
A Wide Range Standards from the Americas France and Original Arrangements
Antonio Carlos Jobim - The Girl From Ipanema
Charles TRENET - La Mer
Duke Ellington - C Jam Blues
George BRASSENS - Chanson Pour l'Auvergnat
Herbie Hancock - Watermelon Man
PINK FLOYD - Money (in Swing Jazz Style)
Stevie WONDER - Isn't She Lovely
Great Classics