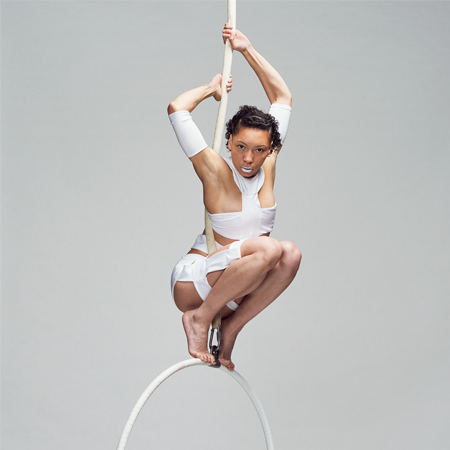 London Aerial Hoop Artist
Fantastic and highly visual aerial hoop artist
Will blow the audience away with stunning acrobatics and contortion
Fully customisable routines to suit different event types
Graduated at the National Centre for Circus Arts in London
Based in London and available for international events
London Aerial Hoop Artist PHOTOS
Book our exceptional London aerial hoop artist to wow your guests with incredible displays of skill, agility and contortions whilst suspended up above the stage.  
Our aerialist and hoop artist is available to be booked for astonishing stage shows that combine innovative acrobatic skills and breathtaking, stunning visual displays. Her abilities to deliver unique aerial hoop performances makes our London aerial hoop artists an exceptional choice to impress a wide and varied range of audiences. Alternatively, she is able to add a superb atmosphere to any occasion with ambient aerial displays.  
The aerialist is a fully accomplished and highly trained hoop performer, who amongst other achievements, graduated with a degree in Circus Arts specialising in Aerial Hoop at the National Centre for Circus Arts in London. She has performed with many circus collectives in the UK and uses her skills as an aerialist, acrobat, actress, dancer and model during her performances. 
Our London aerial hoop artist offers fully customisable routines to suit clients requirements and event themes. The routine can be tailored to suit an informal audience setting or a more formal seated audience. She has a variety of costumes that can be worn to suit the event too.
As well as solo performances, the hoop performer can offer an act that collaborates with an electronic vocal performer that delivers a live soundtrack along with the aerial routine. They both wear wear white/UV costumes with UV paint which makes it great choice for futuristic and sci-fi themed events.
To book the aerial hoop artists for your event, contact our team of Entertainment Specialist who are always more than happy to help.