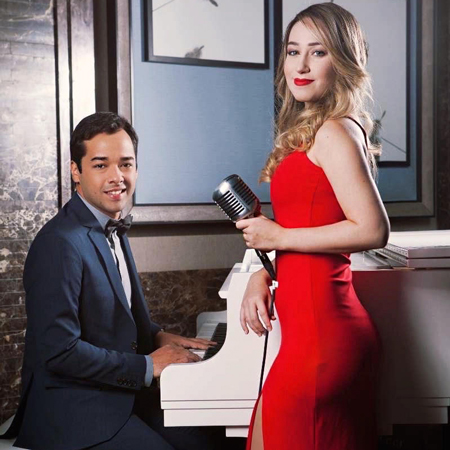 Lounge Duo Brazil
Husband and wide duo that play excellent long music with just piano and vocals
Repertoire includes pop, jazz, R&B, soul, samba, bossa nova and latin music
The live music can be tailored to upbeat or really chilled out lounge music
Great for cruise ships, corporate events, hotels, resorts and weddings
Based in Recife in Brazil and available for events worldwide
This excellent husband and wide duo will delight your guests with their luscious lounge music. If you're looking for live music to entertain your guests but do not want the encumbrance of a full band or want to provide a more chilled out atmosphere, our Lounge Duo Brazil is a great choice. With just piano and vocals the versatile live lounge duo is classy, elegant and takes up very little room.
Our Lounge Duo Brazil is exceptionally well suited to performing live music in hotels, bars and resorts as well as corporate events and weddings. They perform excellent lounge music with just piano and vocals as well as some cleverly arranged backing tracks. 
With a large repertoire of music to offer, the Lounge Duo Brazil can play different styles such as pop, jazz, R&B, soul, samba, bossa nova and Latin music. The live lounge duo takes a range of well-known songs and trips them down so they can be performed with just piano and vocals. The live music can be tailored to upbeat or really chilled out lounge music. 
The live lounge duo has performed all over the world and experience with the worldwide Four Seasons Hotels & Resorts, Norwegian Cruise Line and Wanda Vista Travel Line in China. They have provided live music for events in Europe, China, Hong Kong, Dubai and Brazil.
Top Tip:
The live lounge band can also be booked as a trio or full band. 
If like U2, you 'still haven't found what you're looking for' then explore our full South American Entertainment Roster, we're sure you'll find just the right entertainment options for your next event.
Contact us at Scarlett Entertainment if you are looking for classy and high-quality live lounge music. Our Lounge Duo Brazil is guaranteed to impress your guests an leave them wanting more.