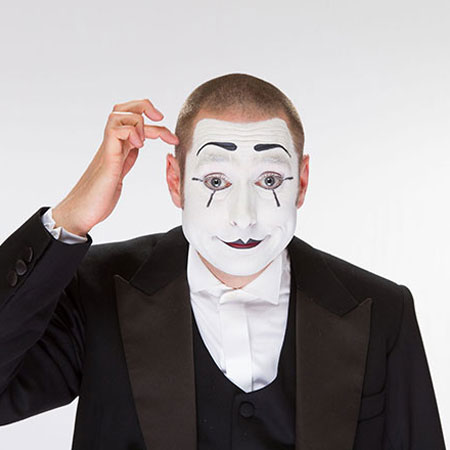 Mime Artist Berlin
Hilarious antics & funny personas will delight guests of all ages
20 years of performance experience
Wide range of characters: classic, sailor, chef, handyman & more
Previous clients include: Allianz, BMW, Toyota, Ford & more
Based in Berlin & available to perform at events worldwide
Mime Artist Berlin PHOTOS
Liven up your event with this hilarious mime act, available as a solo act or as a mime duo!
With 20 years of performance experience in the entertainment and event industry, this mime act knows how to entertain and captivate even the most stoic and uninterested of audiences. He has performed at numerous theme parks, theatres, festivals and amusement parks across Germany and performed at events for global clients such as Allianz Insurance, BMW, Toyota, Ford, Mitsubishi, VW and more.
As a solo artist, or together with his partner in crime, this mime has an exciting and varied program of shows and a wide range of characters including: classic mime, sailor, chef, handyman and pyjama mime. Funny and engaging, his performances will delight and entertain guests and audiences of all ages and leave them with smiles on their faces. Dedicated to creating the perfect atmosphere at your event by providing the right type of entertainment for your needs, he is happy to create bespoke costumes, character and shows to help make your event extra special.
He can also perform as a walkabout act or as a stage show depending on your requirements. His mime act is perfect for sparking interesting and engaging audiences at a wide range of event, from trade shows, gala events, variety shows, corporate events and exhibitions and private parties. 
Pantomime Walk
This act oozes wordless wit and charm. Guests will laugh in delight at his slapstick humour, as he creates balloon sculptures and performs incredible magic tricks. Ideal for a range of events, as a walkabout act for guests to interactive with or just sit back and watch!
Photo Walk
In this act he will take on the role of charming photographer. Equipped with an antique camera plate, he will walk about your event taking funny photos and making happy memories.
Taxi Walk
In this act an ordinary padded wheelbarrow plays the role of taxi. He will chauffeurs guests around your event, sometime taking humours detours, but always returning them in one piece!
Fair Walk
Ideal for corporate events and exhibitions shows, he can dress up in any theme and entice delegates to your stall, meet and greet guests and even hand out canapés.
Balloon Figures
In this act, he will create a whole zoo of balloons before his audience's disbelieving eyes! Large and small, he can create any type of balloon sculpture that you desire. This act can be incorporated as part of a stage show or walkabout act.
Living Doll
Posed as a living statue, he becomes a living 'balloon machine'. For every coin tossed in his trunk, he produces a balloon animal for you to take home!
Ash AG Berlin
Bergerie di Cania
BMW Group Hamburg
comTeam AG Hannover
German Shell AG Hamburg
DLRG Wiesbaden
e - plus
Ford Car Dealers
Hannöversche AIDS e.V.
Heidelberger Druckmaschinen Norderstedt
H.O.T. market
Kaufmann House Hamburg
Madison Hotel Hamburg
Metro
OBI Hamburg
Pohland Centro / Oberhausen
Renault Car Dealers
Sophia Szagun Hamburg
Tchibo Hamburg
TelePoint
T-Systems Hamburg
Volkswagen AG
Allianz Insurance Hamburg
Avacon Bremen
Pretzel Ditsch
CeBit Hannover
Daimler Chrysler
German Telekom AG
Elegance Hannnover
Fielmann AG Hamburg & Schierensee
Gourmet Festival Wolfsburg
HDI Insurance
Hilton Hotel Bremen
HVV Hamburg
Lufthansa Cargo Hamburg
Exhibition Car Vision Hamburg
Mitsubishi car dealerships Hamburg
Olympus Europe GmbH Hamburg
Pro- market Wilhelmshafen
Scandic Hotel Lübeck - Travemünde
Sparda Bank Hamburg
Technicians health insurance Hamburg
Toyota car dealerships
USM Hamburg
and much more
Altona Museum Hamburg