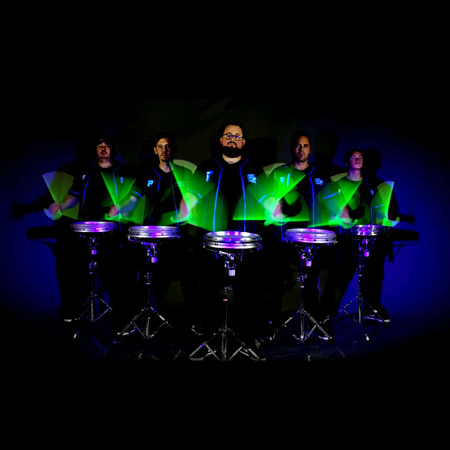 Modern Freestyle Drummers UK
A fresh modern take on live drumming with UV shows and performances along to pop and dance music
Energetic entertainment for sporting events, public occasions as well as corporate events, conferences and product launch parties
Customisable drumming act can wear branded clothing and tailor their show for the event
Group consist of six drummers but more can be added for extra impact
Available for stage shows, roaming performances and drumming workshops
Modern Freestyle Drummers UK VIDEOS
Modern Freestyle Drummers UK PHOTOS
Our Modern Freestyle Drummers UK offer upbeat freestyle drumming entertainment with impressive tricks, unquestionable skill and a very contemporary approach. The freestyle drummers are all exceptionally experienced rudimental drummers who have performed all over the world at events such as Olympic opening ceremonies as well as with the legendary The Rolling Stones. They have pooled together their talents to form an exceptional UK drumline delivering high calibre shows and UV drumming showcases. 
The Modern Freestyle Drummers UK have a different approach to most other drum groups and actually perform along to pop and dance hits such as LMFAO's Party Rock Anthem and Macklemore & Ryan Lewis Can't Hold Us. They bring energy and enthusiasm to live shows as well as entertaining showmanship and visually enthralling freestyle drumming as they flick drumsticks in the air, paradiddle in unity and perform flamboyant fills across each other's drums. 
The UK drumline also provides a stunning UV drumming show where, plunged into darkness, they use UV lighting and LED sticks to perform a show entirely based on the aesthetics of the stick movement. The UK drumline will also incorporate the UV drumming into any show the clients for that extra wow factor. 
The UK drumline is based in Birmingham and available for events all over the world. The freestyle drummers are great getting audiences psyched at sporting events and public occasions as well as a great form of live entertainment for corporate events, conferences and product launch parties. The drummers are more than happy to engage in crowd interaction to make the experience involve the guests. 
If you would like to book our Modern Freestyle Drummers UK for an upcoming event, please contact us at Scarlett Entertainment. 
" From an organiser's point of view, they were a dream to work with. Turned up on time, set up without hassle and then wowed the crowds during their set. They performed in-between musical acts, and any raised eyebrows of their booking before the show by those in attendance was soon quashed as they clapped and danced along to the guy's tracks. "

Adam S
" From start to finish the guys were awesome, they performed an impromptu set in one of our lounges using just tables that was brilliant. The performance on the pitch was another level and one of the best acts we have ever had play at The Halliwell Jones Stadium, the energy from the guys really got the crowd going, the act was like nothing I have seen before, really unique. "

Claire G