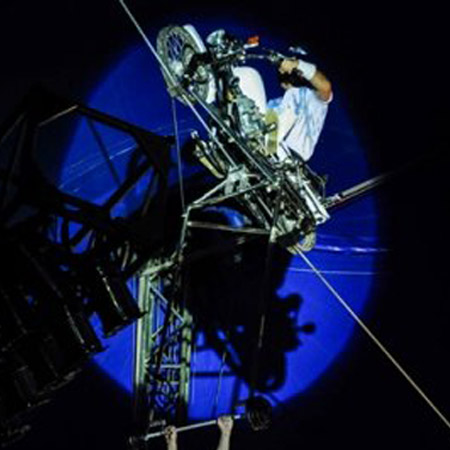 Motorcycle Wire Stunt Act USA
Thrilling stunt entertainment featuring an aerialist and skilled motorcyclist.
Insane bike stunts will have guests on the edge of their seat.
Amazing high adrenaline performance showcasing stunt artists defying the laws of gravity.
A huge crowd favorite, extreme stunt shows ideal for any size event.
Book stunt entertainment for a truly unforgettable experience across North America and worldwide.
Motorcycle Wire Stunt Act USA PHOTOS
Providing world class extreme stunt entertainment, our fantastic stunt artists will take to the sky to perform a gravity defying, gymnastic feat of outstanding proportions. Our extreme stunt shows will leave guests memorized and delighted as our motorcycle expert takes our beautiful aerialist to the top of a high wire, where she will perform various tricks including twirls that involve our lovely entertainer holding onto a rope with just her mouth. Focusing on pure high energy, our fantastic stunt display team are on a personal mission to ensure guests around the world are entertained. Our one of a kind stunt productions have entertained audiences of all sizes for years, and have quickly become a fan favourite at any circus themed event. Incredible bike stunts you wont find anywhere else.
Creating fantastic shows, our stunt artists and aerialists are able to customize their performance to fit within the boundaries of any theme you might be planning and are the perfect extreme entertainment act to get your crowd riled up. Giving each individual event personal attention, our unbelievable motorcycle wire stunt act will take any stage their given by storm to provide a positive atmosphere for audience members to enjoy, paying incredible attention to detail our stunt productions team will create lifelong memories guests wont soon forget.
Our stunt artists are ideal for any circus entertainment themed event, but are also perfect for any style of themed gathering for your next corporate event, private party, festival, and more. Our stunt acts can be booked solo but are also able to be combined with the number of other Scarlett Entertainment stunt acts to create a fantastically amazing bike stunts show. 
If you're interested in booking oen of our extreme stunt shows for your next event contact a member of our Scarlett Entertainment team who will help you finalize the stunt entertainment booking for your next event.