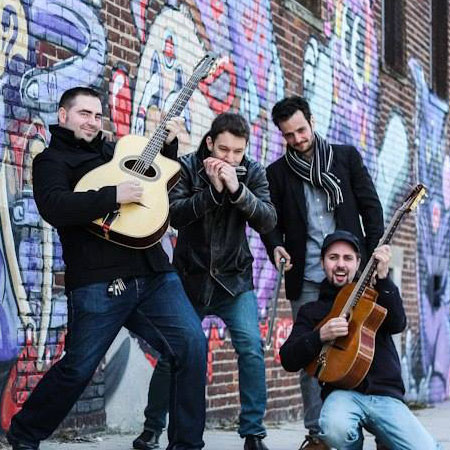 New York Gypsy Jazz Band
Thrilling, electrifying performances will bring your event to life
Infuse French gypsy Jazz with East Coast attitude!
Deliver a mix of 30's & 40's American Jazz standards & French songs
Perfect for festivals, clubs, wedding receptions, private parties & more
Based in New York & available to perform at events worldwide
New York Gypsy Jazz Band PHOTOS
Full of enthusiasm and unstoppable energy, this gypsy Jazz band deliver high-octane performances time and time again. Their electric mix of classical American 30's and 40's Jazz standards, Bossa Nova and French Songs is given an injection of East Coast attitude and is sure to bring your event to life.
Their incredibly thrilling music showcases virtuosic technique, electrifying improvisation, rapid tempos, daring key changes and eclectic musical literacy. Guests will be on their feet and dancing away well into the night to the sounds of beautiful violin and harmonica melodies, dazzling guitar stylings, and the sultry sounds of upright bass.
Melding together the spirit of traditional gypsy Jazz, French songs and modern grooves, this band is guaranteed to make your event a complete success!
After You've Gone
All of Me
All The Things You Are
Almost Like Being in Love
Alone Together
April in Paris
Autumn in New York
Autumn Leaves
Avalon
Basin Street blues
Bei mir bistu shein
Besame mucho
Bluesette
After You've Gone
All Blues
All of Me
All of You
All or Nothing at All
Anything Goes
Body and Soul
Ceora
Cheek to Cheek
Come on Get Happy
Confirmation
Conception
Darn That Dream
Dewey Square
Dinah
Dream a Little Dream of Me
East of the Sun
Fly Me to the Moon
How Deep is the Ocean
I Love You
I Love Paris
It Had to Be You
Like Someone in Love
Milestones
Moon River
My Funny Valentine
My Ideal
My Foolish Heart
My Foolish Things
Night and Day
Old Fashioned
Our love is here to stay
Out of nowhere
Pennies from heaven
Prelude to a kiss
Over The Rainbow
Pannonica
Pent-up House
Quasimodo
September in the Rain
Slow Boat to China
Smile
Somewhere over the rainbow
Sophisticated lady
Speak Low
Star Eyes
Stella By Star Light
Strollin'
Summertime
Sweet Sue just you
S'Wonderful
Take the A train
Tea for two
That old feeling
There will never be another you
These foolish things
They can't take that away from me
Three little words
Very Early
What a Wonderful World
What's New?
We'll be Together Again
You Stepped Out of a Dream
Yesterdays
American Jazz
Bistro Fada
Douce France
Jardin d'Hiver
L'Accordeoniste
La Foule
La Javanaise
La Mer
La Vie En Rose
Les Escaliers de la Butte
Menilmontant
Milord
Non Je ne Regrette Rien
Que Reste t-il de Nos Amours
Padam
Rien de Rien
Sous le Ciel de Paris
Syracuse
Swing Valse
Gypsy Jazz
Anouman
Belleville
Bistro Fada
Blues clair
Blues Minor
Bossa Dorado
Clair de lune
Danse Norvégienne
Daphnée
Dark Eyes
Dinette
Djangology
Django's Tiger
Douce ambiance
Hungaria
How High The Moon
Indifférence
Joseph Joseph
La Gitane
Limehouse blues
Manoir de mes rêves
Mélodie au crépuscule
Minor swing
Mystérieuse
Nuages
Si tu savais
Stompin' at Decca
Stompin' at Savoy
Swing 39
Swing 42
Swing 48
Swing Gitan
Swing Guitars
Tchavolo Swing
Troublant Bolero
Bossa Nova
Aguas de Marco
Besame Mucho
Chega de Saudade
Corcovado
Desafinado
Estate
Fotographia
Girl From Ipanema
How Insensitive
Triste
Wave
Pop Songs
Alfie (Stevie Wonder)
Can't Help It (Michael Jackson)
Every Breath You Take (Sting)
Isn't She Lovely
My Cherie Amour
Midnight Cowboy(John Barry)
Send On Your Love(Stevie Wonder)
Shape of My Heart(Sting)
French Songs
" Thank you again for performing at the French Cultural Center. Your group was excellent and it was truly a pleasure to work with you. "

Kate Riester, French Cultural Center, Boston MA 10/29/2013
" Your band at the Piermont FlyWheel Gallery was a big hit. Everyone loved the sound and you gave my art show the kind of ambiance that I was looking for… elegant and fun and kept the place at a lively pace. I received lots of terrific comments regarding the music and lots of interest in having you play. "

Rachele Unter, FlyWheel Gallery, Piermont NY 11/03/13
" I am so glad that you and your group performed at this year's Ghouls and Gourds! You truly sounded wonderful. I am so glad that you had fun at the event. Wishing you the very best. "

Josh Diamonds, The Brooklyn Botanic Garden, New York 10/26/13
" Thank you for providing perfectly lovely music entertainment this evening. It made for the perfect party. There were accolades all around. "

Denise Nelson, Lincoln Ristorante, New York 12/15/13