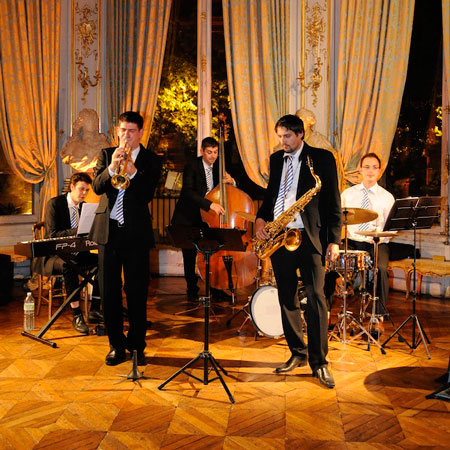 Paris Jazz Collective
Collection including some of the finest Jazz musicians in France
Available in a variety of line up formats: from Solo to Big Band
Musical styles can include Jazz, Swing, Gypsy Jazz, Classical, Gospel...
Previous clients include the US Embassy, GRDF and global corporate clients
Based in Paris and available to perform Worldwide
Paris Jazz Collective PHOTOS
For a relaxing evening of Jazz and Swing, this Parisian group perform classics by the likes of Miles Davis, Sonny Rollins, Joe Henderson and Bennie Golson; ideal for cocktail parties, wedding receptions or after dinner entertainment.
'Jazz Collective' is able to tailor its act to suit any occasion and will perform a wide variety of musical styles from jazz and classical, to gospel and soul.  They will also sing music by the greats; Frank Sinatra, Nina Simone, Louis Armstrong and Ella Fitzgerald. 
Depending on budget, venue and client requirements 'Jazz Collective' can perform as a solo act or quintet, offering either lead Male or Female Vocals, or instrumental only jazz with lead Saxophone.  Past clients include the US embassy, GRDF and Centre George Pompidou.
Miles Davis
Sonny Rollins
Joe Henderson
Bennie Golson
Horace Silver
Lee Morgan
Jazz/ Swing:
Frank Sinatra
Tony Bennett
Robbie Williams
Gospel band:
Happy Day
Amazing Grace
Precious Lord
I'm Gona Praise his Name - Ave Maria
Jazz New Orleans:
from Louis Armstrong to Charles Trénet
Soul band:
Stevie Wonder
Marvin Gaye
The Temptations
Diana Ross & The Supremes
Brenda Holloway
The Jacksons 5 ... in accoustic jazz!
Female Jazz Singer:
Diana Krall
Ella Fitzgerald
Billie Holiday
Aretha Franklin
Nina Simone
Quintet:
Trio jazz guitar:
Blues
Jazz
Latin Jazz
Boogaloo
Trio jazz:
Sonny Rollins
Miles Davis
Stan Getz
Jazz swing:
from Sinatra to Ray Charles and Stevie Wonder
Street orchestra:
original songs
Maceo Parker
James Brown
Quartet jazz:
Chet Baker
Gerry Mulligan
Piano solo:
Duke Ellington
Michel Legrand
Oscar Perterson
Bill Evans
Michel Petrucciani
Gypsy Jazz
GRDF
Argenteuil City
US Embassy
And many more...
Palais Brongniart
Claude Monet exhibition
Jardins des Invalides
Lavinia cellar- Paris
Centre Georges Pompidou