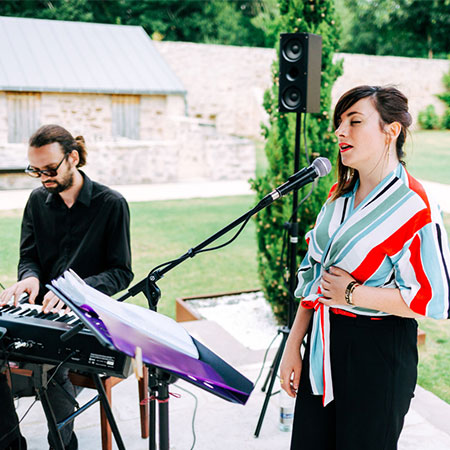 Piano & Vocal Duo France
Live covers duo formed by a female singer and a keyboard player sets the perfect tone for your occasion
Fully customisable repertoire includes both French and international hits
Able to perform in both French and English and adapt to different types of events and spaces
Ideal live music entertainment for weddings, corporate evenings, receptions, cocktail lounges, etc.
This Piano and Vocal Duo is based in France and available for bookings worldwide
Piano & Vocal Duo France PHOTOS
Formed by one female singer and one male keyboard player, this Piano and Vocal Duo from France has many years of experience performing at both small and large events. Our musicians know how to engage listeners through music and make them feel as part of the show by encouraging them to sing along and performing songs of different styles and genres.
Able to perform in both French and English, this French cover duo can appeal to a wide audience with their international repertoire. Fully customisable, our female singer and pianist are more than happy to adapt it to suit your needs and satisfy the tastes of your different guests.
If you're looking for a live music entertainment option that sets the perfect tone for your event, then our live covers duo is what your special occasion needs. Specialising in live background music, our keyboard player and singer ensure your guests enjoy an afternoon or evening of good live music.
Our Paris-based live covers duo is committed to work closely with you in order to deliver a performance that your guests enjoy and remember. Happy to perform songs on request, our duo can make your event extra special by performing that particular song you have in mind.
Offering live background music for events of different sorts, our live covers duo is the perfect live music entertainment option for corporate evenings, receptions, weddings, cocktail lounges and any other social gathering. Our musicians always welcome the opportunity to perform at different types of occasions and share their music with audiences of all nationalities and ages!
Scarlett Entertainment offers a wide range of live music entertainment for events and occasions in France and worldwide.
Book this Piano and Vocal Duo from France by contacting us today. Our in-house team of Entertainment Specialists will be more than happy to provide further details on this French Cover Duo and guide you through the booking process.